Gnomeo and Juliet
(2011)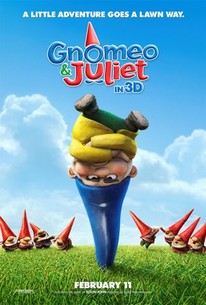 Movie Info
The greatest love story ever told, starring...garden gnomes? In the upcoming "Gnomeo & Juliet," Shakespeare's revered tale gets a comical, off-the-wall makeover. Directed by Kelly Asbury ("Shrek 2") and showcasing both classic and original songs by Elton John, the film features the voices of James McAvoy and Emily Blunt as Gnomeo and Juliet, who have as many obstacles to overcome as their quasi namesakes when they are caught up in a feud between neighbors. But with plastic pink flamingos and thrilling lawnmower races in the mix, can this young couple find lasting happiness? Two garden gnomes, Gnomeo (voice of James McAvoy) and Juliet (voice of Emily Blunt), try to avoid tragedy and find a happy ending to their star-crossed love affair when they are caught up in a feud between neighbors. -- (C) Disney
News & Interviews for Gnomeo and Juliet
Critic Reviews for Gnomeo and Juliet
Audience Reviews for Gnomeo and Juliet
I'm not a person who likes Shakespeare's work, which some may find shocking, but I find his work just uninteresting and hard to figure out what the hell is going on, but I found this film Shockingly, and I MEAN SHOCKINGLY good. Sure it isn't the best animated film I've seen, and there are a lot of unfunny and stupid jokes, but the animation is nice, the music is well composed, and the characters are interesting and likable (Except the frog), and the pacing and action is actually pretty decent.
Michael Edwards
Super Reviewer
Interesting and cute twist on a classic story, even though it's a bit generic.. I don't mind all the Elton John music! The animators did a good job with the garden plants and plaster texture of all the garden Gnomes. It's odd how solid statues can become so flexible without cracking. The 3D is sort of cool, but not essential. It's a bit odd how none of the neighbours notice anything going on in the alleyway. The movie poster is terrible with the Gnome stuck upside down in the grass. I enjoyed the sweetness of this movie candy, but wouldn't want to eat it too often.
Lafe Fredbjornson
Super Reviewer
Sweet cartoon tale based (obviously) on William Shakespeare's tragedy Romeo and Juliet. Blue Gnomeo and red Juliet are figurines on adjacent lawns of neighbors who despise each other. They meet and fall in love despite the fact that the blue and the red garden gnome families are not on friendly terms either. Little known Starz Animation Toronto is responsible for this colorful computer animated comedy. Yes comedy, as liberties have been regrettably taken to lighten up the source play. Additionally, the production lacks the detailed facial expressions that usually highlights these productions. All of the gnomes have sort of the same generic features. Their repetitive countenances lack the distinction needed to engage the viewer. The production does feature an impressive array of British talent that includes James McAvoy and Emily Blunt as the lead characters. There's also a plastic garden frog named Nannette, Juliet's best friend, who is a notably goofy side character. But it's ironic that the funniest voice belongs to American wrestler Hulk Hogan as an announcer that commands internet shoppers to purchase the Terrafirminator lawn mower: "It's a weapon of GRASS destruction!" The story could have used more funny bits like that. Regardless, this was a sleeper hit and it's not too hard to see why. Innocent family offering is just pleasant enough to entertain the whole family.
Mark Hobin
Super Reviewer
Gnomeo and Juliet Quotes
There are no approved quotes yet for this movie.