Gloria
(2014)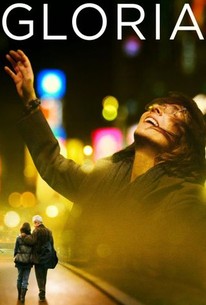 TOMATOMETER
AUDIENCE SCORE
Critic Consensus: Marvelously directed by Sebastian Lelio and beautifully led by a powerful performance from Paulina Garcia, Gloria takes an honest, sweetly poignant look at a type of character that's all too often neglected in Hollywood.
Movie Info
Gloria is a "woman of a certain age" but still feels young. Though lonely, she makes the best of her situation and fills her nights seeking love at social dance clubs for single adults. Her fragile happiness changes the day she meets Rodolfo. Their intense passion, to which Gloria gives her all, leaves her vacillating between hope and despair -- until she uncovers a new strength and realizes that, in her golden years, she can shine brighter than ever. GLORIA is Chile's official entry for Best Foreign Language Film at the 86th Academy Awards (R), and stars Paulina García in a tour de force performance that captured the Silver Bear Best Actress Award at this year's Berlin Film Festival. (c) Roadside
News & Interviews for Gloria
Critic Reviews for Gloria
Audience Reviews for Gloria
A young grandmother embarks on a new romance with a sweet and attentive but strange older man. Paulina García's resilient performance just barely overcomes a slow-moving first half to earn the movie a cautious recommendation. After watching this you won't be convinced that romance after 50 is a beautiful thing, but you'll be certain that sex after 50 is an ugly one.
½
Gloria as a movie isn't particularly innovative. It feels like some rediscovered relic from the 70s highlighting the liberated single woman character wronged by men. Here she is a vibrant older woman who, once married, must now come to terms with being alone. Her emotional journey to make peace with her current state in life is where the story mines its drama. The entire film rests on the performance of its titular star. Gloria is highlighted by Paulina García. She craves passion and it's hard not to care about her predicament. We sympathize with her. But Rodolfo's behavior grows more inconsiderate and less tolerable. He's weak and ineffectual. We do not share in her attraction to this man. Her decision to keep going back to him is a little frustrating and after awhile, enabling. Laura Branigan sang, "Are the voices in your head calling, Gloria?" Because if they are, don't answer them, Gloria. Just walk away. fastfilmreviews.com
Mark Hobin
Super Reviewer
Chile's entry for the 2014 Foreign Language Oscar is the character study of Gloria (Garcia), a middle-aged, middle-class divorcee who prowls the mature singles clubs of Santiago, looking for her Senor Goodbar. A series of encounters with men leads nowhere until she meets paintball park owner Rodolfo (Hernandez), an odd but charming man who, like Gloria, has come through a divorce. The two plunge quickly into a passionate relationship but Rodolfo's behavior becomes increasingly antisocial and his ex-wife and two adult daughters (who refuse to work while he supports them financially) are a constant menace. Cinema so often behaves like a playground bully, stealing from other artforms to paper over the deficiencies of uninventive film-makers. Music is so often the victim. How many times have you been moved by a scene in an otherwise unremarkable film, only to wonder if it's the director's choice of a great piece of music that's stirring your emotions, rather than any great piece of visual film-making? There are three such moments in Sebastian Lelio's latest film; a charming group singalong to Brazilian songwriter Antonio Carlos Jobim's beautiful tune 'Aguas de Marco', a Kubrickian shot of a disconsolate Gloria in a hair salon with the adagietto from Mahler's fifth symphony (one of the most overused pieces of music in cinema since its iconic use in 'Death in Venice') playing in the background (Chilean hairdressers seemingly have far more sophisticated musical taste than their European counterparts), and a final cathartic dance to a Spanish language cover of Laura Branigan's eighties hit 'Gloria'. All three are stirring moments in their own right but Lelio and his film have done nothing to earn such borrowed euphoria. Aside from a hilariously offbeat revenge scene involving a paintball gun, the film is bland, humorless and quite tedious. Gloria isn't a particularly interesting character (though Garcia is admittedly outstanding in the role) and if her creator intends us to sympathize with her he's way off the mark. Her actions are mostly infuriating and she's the type of character you want to shake rather than hug. The film has no real direction and subplots (an insane young neighbor, her daughter's pregnancy) lead nowhere. There's an interesting film to be made about a character like Gloria (most likely by a female film-maker) but Lelio doesn't seem to be the one to pull it off.
The Movie Waffler
Super Reviewer
Gloria Quotes
There are no approved quotes yet for this movie.