Red Riding Hood
(2011)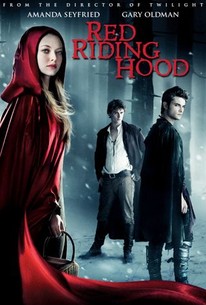 TOMATOMETER
AUDIENCE SCORE
Critic Consensus: Amanda Seyfried is magnetic in Red Riding Hood's starring role, but she's let down by her uninspired leading men and a painfully cliched script.
Movie Info
Valerie (Amanda Seyfried) is a beautiful young woman torn between two men. She is in love with a brooding outsider Peter (Shiloh Fernandez), but her parents have arranged for her to marry the wealthy Henry (Max Irons). Unwilling to lose each other, Valerie and Peter are planning to run away together when they learn that Valerie's older sister has been killed by the werewolf that prowls the dark forest surrounding their village. For years, the people have maintained an uneasy truce with the beast, offering the creature a monthly animal sacrifice. But under a blood red moon, the wolf has upped the stakes by taking a human life. Hungry for revenge, the people call on famed werewolf hunter, Father Solomon (Gary Oldman), to help them kill the wolf. But Solomon's arrival brings unintended consequences as he warns that the wolf, who takes human form by day, could be any one of them. As the death toll rises with each moon, Valerie begins to suspect that the werewolf could be someone she loves. Panic grips the town as Valerie discovers that she has a unique connection to the beast-one that inexorably draws them together, making her both suspect...and bait.-- (C) Warner Bros.
Critic Reviews for Red Riding Hood
Audience Reviews for Red Riding Hood
Gary Oldman, as the fiery preacher out to rid the world of demons and their influence, saves this bedtime story that confuses itself with a typical detective whodunit (only here it's who-is-it: who's the big, bad wolf? Is it the town mayor, or the blacksmith, or ... just who is it?). The other characters concern themselves with Riding Hood's secondary concern, which is who will bed her? Thank goodness Oldman was in this, underwritten as it was for a teenage crowd!
Kevin M. Williams
Super Reviewer
½
Wasn't too sure what to expect with this being based on a children's fable yet filmed as a serious horror/thriller flick, to my pleasant surprise it was quite enjoyable and had a nice gothic almost German expressionist type feel to it that you might expect from directors such as Burton or Gilliam. The film isn't much of a horror as its not really scary at all so don't be thinking its gonna be a blood fest, there are some bloody moments but nothing extreme. The film is on a fine line between fantasy and thriller with an element of sexual fantasy running through the plot for young teenage girls, nothing strong, think along the lines of 'Twilight' teenage angst mixed with 'Cursed' or a little bit of 'Ginger Snaps' but not as in your face as those films, there is still an enjoyable werewolf film here. Much fun comes from Oldman as Father Solomon the werewolf hunter who gives a boarder line hammy performance but adds edge and giving the film that much needed bite of realism or stability, without that the film could easily have become laughable. Seyfried also gives a good performance as the lead Valerie which keeps the films head just above the water, apart from her and Oldman the rest of the cast aren't too good. Glorious visuals, nice and gloomy, dark and brooding set amongst snow coated forests of aggressive and gnarled looking trees, the sets are convincing yet the wolf CGI is slightly dubious in places. Simple plot which is handled quite well seeing as its only based on a short fairytale, it won't mesmerise you but its a decent solid werewolf flick.
Phil Hubbs
Super Reviewer
½
Re-telling of the fairy with the werewolf terrorising the villagers. Good cast. Leonardo DiCaprio produces.
Candy Rose
Super Reviewer
Red Riding Hood Quotes
There are no approved quotes yet for this movie.