Girl With a Pearl Earring
(2004)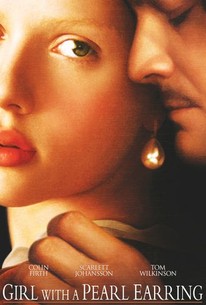 Girl With a Pearl Earring Photos
Movie Info
A speculative account of the life of Griet, a 16-year-old girl who appears in Johannes Vermeer's painting of the same title. Set in 17th century Holland, Griet is employed by Vermeer as a housemaid to care for his six children, his jealous pregnant wife and his uncommunicative mother-in-law. Tensions arise when Vermeer's wife suspects intimacy between her husband and the girl--and then climax, when the wife discovers that Griet borrowed her precious pearl earrings to sit for the now famous portrait.
News & Interviews for Girl With a Pearl Earring
Critic Reviews for Girl With a Pearl Earring
Audience Reviews for Girl With a Pearl Earring
½
An intriguing drama centered on the strong sexual tension between Johannes Vermeer and a woman who would supposedly become the subject of his most famous painting - but even if visually stunning, the result could have been a bit more involving.
Carlos Magalhães
Super Reviewer
Beauty inspires obsession. Good movie yet slow. While the story is obviously not true, I find the concept of theorizing about the origination of great works of art intriguing. Unfortunately, the film 'Girl with a Pearl Earring' directed by Peter Webber wasn't as enjoyable. The film was admitted beautiful, particularly the cinematography. There were some beautifully framed shots that looked like they would have inspired any of Vermeer's Baroque contemporaries. I found the performances to be hollow and boring. It takes a special film to coast on its merits merely by looking pretty, but 'Girl with a Pearl Earring' is not one of them. While I encourage the study of great artists, this is just too boring of a representation. Watch only if your a fan of Scarlett or Firth. This film, adapted from a work of fiction by author Tracy Chevalier, tells a story about the events surrounding the creation of the painting "Girl With A Pearl Earring" by 17th century Dutch master Johannes Vermeer. Little is known about the girl in the painting, it is speculated that she was a maid who lived in the house of the painter along with his family and other servants, though there is no historical evidence . This masterful film attempts to recreate the mysterious girl's life. Griet, played by Scarlett Johansson, is a maid in the house of painter Johannes Vermeer, played by British actor Colin Firth. Vermeer's wealthy patron and sole means of support, Van Ruijven, commissions him to paint Griet with the intent that he will have her for himself before it is finished. She must somehow secretly pose for the crucial painting without the knowledge of Vermeer's wife, avoid Van Ruijven's grasp, and protect herself from the cruel gossip of the world of a 17th century servant.
Visually this film about the creation of Vermeer's famous painting from the 1600s is very pleasing. The majority of the shots look like paintings themselves at first glance. The cast is also excellent. So why did this not work for me? Maybe you have to be into art to appreciate the story of the making of a painting and all the components that have to come together. Maybe you have to be a history buff to acknowledge how big a deal it was to paint a servant girl back then. Fact is, the film did not reach me on an emotional level, its problems did not touch me. I didn't expect this to be nail-biting exciting, and you gotta give the creators credit for not causing drama just for drama's sake, but in the end I just thought: "That was it? What was all the fuzz about?"
Girl With a Pearl Earring Quotes
There are no approved quotes yet for this movie.