Girl on the Bridge (La Fille sur le Pont)
(1999)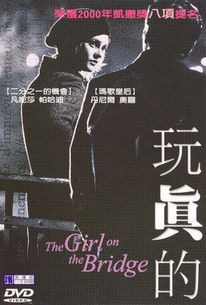 Movie Info
A woman's long history of bad luck starts to change when she puts her life on the line in this romantic drama. Adèle (Vanessa Paradis) is a 22-year-old woman whose life seems to have been a long series of miscalculations; she's never had much luck with love, life, or career, and is standing on a bridge overlooking the Seine one night, contemplating suicide, when she's approached by a man named Gabor (Daniel Auteuil). Gabor announces he's a knife-thrower who needs a new human target for his act. Would Adèle be interested? Adèle's immediate answer is to jump into the water, but after Gabor fishes her out and gets her to a hospital, she has a change of heart and the pair are soon on their way to Monaco, where Gabor gets a spot at a circus. Adèle and Gabor make a great team; he's good with knives, she's young and beautiful, and suddenly Adèle's luck starts to change. She visits a casino one night and comes home with a fortune, and even when Gabor throws blindfolded, she walks away without so much as a scratch. However, an obvious chemistry is brewing between the two, which leads to a dilemma: Gabor has a strict policy of never getting romantically involved with his partners. Will he make an exception, or is Adèle's new run of luck coming to an end? ~ Mark Deming, Rovi
Critic Reviews for Girl on the Bridge (La Fille sur le Pont)
Audience Reviews for Girl on the Bridge (La Fille sur le Pont)
A young woman despondent with her life is interrupted during a suicide attempt by a knife thrower who talks her into becoming his new assistant. The Girl On The Bridge is a very typically Gallic romance, full of quirky characters and set within a framework of fate and the belief that some people are just "meant to be together". It's humorous fantasy that was a clear influence on Luc Besson when he made Angel A and features the usual concept of beautiful but insecure nymphet attracted to an older, uglier man in a way that seems rather touching instead of seedy and exploitative. The story begs the viewer to understand that Ms Paradis' apparent nymphomania is just a cry for affection and although this seems like a rather simplistic approach, the story has enough wit and charm to win you over. A pleasant piece of oh-so-very-French romantic fluff.
This is a love story for adults. The lovers' acting: impeccable. The music fits like a glove. The plot: they'll die without each other. This movie is filled with delightfully original ideas set in the surreal atmosphere of a circus, and who better than the French to pull that off? Tremendous tension, great dialogue, unique setting, and photography.
Cynthia S.
Super Reviewer
A charming and romantic film. It's shot with such wonderful precision, no shot is wasted. The black and white photography gives it a softer feel. The real brilliance comes in the romantic elements being downplayed. It's the kind of love that is mostly friendship, but could tip over at anytime. Any film involving a knife thrower, is bound to be good. Auteuil gives one of his best performances in an easily accessible film that transcends the usual clichéd route.
Luke Baldock
Super Reviewer
Girl on the Bridge (La Fille sur le Pont) Quotes
There are no approved quotes yet for this movie.