The Girl in the Café (The Girl in the Cafe)
(2005)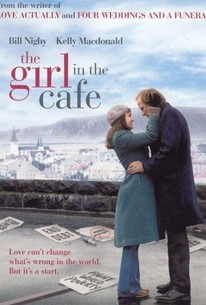 AUDIENCE SCORE
Critic Consensus: No consensus yet.
Movie Info
Produced for HBO, the Capraesque romantic comedy The Girl in the Café stars Bill Nighy as Lawrence, a mild and unprepossessing British civil servant assigned to his country's delegation at the G8 Summit in Reykjavik, Iceland. Although he'd resigned himself to a life of lonely bachelorhood, Lawrence finds himself drawn to Gina (Kelly MacDonald), a odd, outspoken young woman whom he has met in a café. On a whim, the shy Lawrence invites the decidedly un-shy Gina to accompany him to Reykjavik. The burgeoning relationship between these two seemingly mismatched souls is counterpointed by the political jockeying at the conference, where the avowed purpose of G8 -- to adopt the all-important Millennium Development Goals as a means of reducing world poverty -- is obscured by egomania, xenophobia, and foot-dragging. Ultimately, the time comes when both Lawrence and Gina must make crucial decisions, with not only their own future but also the future of humankind in the balance. Written by Richard Curtis of Four Weddings and a Funeral fame, The Girl in the Café first aired on June 25, 2005.
News & Interviews for The Girl in the Café (The Girl in the Cafe)
Critic Reviews for The Girl in the Café (The Girl in the Cafe)
All Critics (4) | Top Critics (1) | Fresh (4) | Rotten (0) | DVD (3)
Understated and moving.
December 20, 2005
A dupla principal é impecável, o roteiro de Curtis é inteligente e recheado de bons diálogos, mas a mensagem política, apesar de bem intencionada, é ingênua e soa artificial.
September 27, 2005 | Rating: 4/5
Nighy, Macdonald, and Curtis have never been better than in their work here.
Audience Reviews for The Girl in the Café (The Girl in the Cafe)
The age-crossing romance is quite perfect - less awkward than the one in Lost in Translation because there is no ambiguity as to the romance part. What really grinds my gears though is the unconvincing portrayal of the so-called humanitarian message. It smacks of being written by people who don't really know what goes on at the G8 conference. All of Gina's pleas are pathos and logos arguments that she just read about in a pamphlet. There is no exigence. We don't learn her ethos argument until the end, and even that is a stretch. The connection between the loss of a child due to domestic crime and the loss of children to worldwide poverty is too easy a motivation. All of the political elements are just easier-said-than-done.
Alice Shen
Super Reviewer
Bill Nighy gives another brilliant performance as Lawrence, a middle-aged, lonely politician who one day, while sneaking out of work for a short coffee break, comes across a young girl in the café. Cramped conditions lead to him having to share a table with this girl, leading to an awkward series of uncomfortable conversations. A series of conversations, that both however enjoy. Nighy's shy and nervous Lawrence manages to pluck up the courage to invite this young girl, Gina, out to lunch. And so the strange relationship ensues, Attracted by his sweet naivety in relationships and women, Gina soon falls for Lawrence, as he does with her. However, things are not what they seem, many problems begin to occur. Lawrence's job as a member of the G8 conflict with Gina's personal opinions. And when Lawrence invites her to join him when he goes to the g8 conference, many more conflicts happen, soon resulting in Lawrence having to choose between his love, and his job. This is a fantastic film, a total surprise for me, as I, in fact, was not expecting much when i was first told to it, but by the end of the film i was loving every character. This is a surprisingly dramatic film that plucks at the heart strings of anyone who has ever felt loss in their life.
Cassandra Maples
Super Reviewer
The Girl in the Café (The Girl in the Cafe) Quotes
There are no approved quotes yet for this movie.