Ginger e Fred (Ginger and Fred)
(1986)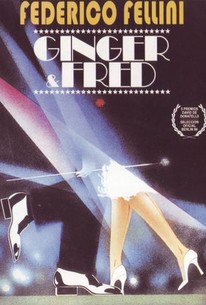 Ginger e Fred (Ginger and Fred) Photos
Movie Info
Director Federico Fellini gently lampoons the world of small-time show business in Ginger and Fred. Giulietta Masina and Marcello Mastroianni star as Amelia Bonetti and Pippo Botticella, a onetime celebrity song-and-dance team. Having risen to fame with a dancing act where they recreated the acts of Ginger Rogers and Fred Astaire (hoping to become the Fred and Ginger of Italy), Amelia and Pippo parted company to pursue their separate lives. Neither one was particularly successful in other fields of endeavor, so when after many years Amelia is offered a guest-star gig on a TV variety show, she jumps at the chance. She also seeks out her former partner, Pippo, who may have looked like Astaire in his younger days, but now....The overall good cheer of the film was dampened when the real Ginger Rogers sued the distributors of Ginger and Fred for "defamation of character."
Critic Reviews for Ginger e Fred (Ginger and Fred)
Audience Reviews for Ginger e Fred (Ginger and Fred)
½
What seems at first like a harmless condemnation of television as an insane, ridiculous circus (and as such it comes off as a silly, dated and mostly unfunny film) soon turns out to be a truly melancholy and touching experience, with Masina and Mastroianni shining together.
Carlos Magalhães
Super Reviewer
Giulietta Masina and Marcello Mastroianni play Rogers and Astaire imitators who are professionally reunited after being apart for some 35 years. Masina and Mastroianni, themselves in their golden years here, are finely and most appropriately cast as figures from a nostalgic long ago.
Fellini definitely is no fan of the television generation that has displaced true entertainers like Ginger and Fred, and as Masina says in the end, "We will never dance again." In fact, both actors were very near the end of their careers and their lives. I'll label this one "bittersweet" as well.
Lanning : )
Super Reviewer
Ginger e Fred (Ginger and Fred) Quotes
There are no approved quotes yet for this movie.