G.I. Joe: The Rise of Cobra
(2009)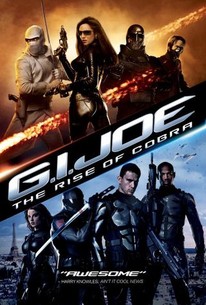 TOMATOMETER
AUDIENCE SCORE
Critic Consensus: While fans of the Hasbro toy franchise may revel in a bit of nostalgia, G.I. Joe: The Rise of Cobra is largely a cartoonish, over-the-top action fest propelled by silly writing, inconsistent visual effects, and merely passable performances.
G.I. Joe: The Rise of Cobra Photos
Movie Info
Director Stephen Sommers (The Mummy, Van Helsing) adapts the beloved Hasbro G.I. Joe toy line with this Paramount Pictures production that pits the Global Integrated Joint Operating Entity against the evil forces of the organization known as Cobra. Dennis Quaid and Channing Tatum star as General Hawk and Duke Hauser, respectively, with Joseph Gordon-Levitt and Marlon Wayans leading the rest of the cast, including Sienna Miller, Ray Park, Rachel Nichols, Christopher Eccleston, Adewale Akinnuoye-Agbaje, Saïd Taghmaoui, and Asian film star Lee Byung-hun. ~ Jeremy Wheeler, Rovi
News & Interviews for G.I. Joe: The Rise of Cobra
Critic Reviews for G.I. Joe: The Rise of Cobra
Audience Reviews for G.I. Joe: The Rise of Cobra
If you're jumping into this movie to be emotionally invested into the characters and plot, don't watch this. Now I am one that hates "Transformers 2" with a passion because it didn't exactly understand what direction it wanted to go. "G.I. Joe: Rise of Cobra" is just as mindless, but has some life in it. The character's dialogue isn't only there to drive the action to a different locale. Some action scenes are spectacular to see, except for the last one. If you wanna see a scene just like the ending, watch Star Wars... you'll get what I mean. I recommend watching it though. It's a fun time.
Based on the iconic American action figure which was originally based around real US military units/branches. Better known in the UK as the iconic 'Action Man' and was (I think) the only soldier based toy of the time, plus it had many accessories to boot!. I had an 'Action Man' plus a few vehicles when I was younger, I can never forget the extreme blonde buzz cut he had and 'Barbie-like' clothing hehe never really stuck with this particular toy. Then whilst living in the US of A at a tender age of around 8 years old, I came across the G.I.Joe cartoon, I was hooked. Now I will admit up front I don't really recall any of the stories behind the franchise/characters, I only liked it for the cool action, cool vehicles and of course cool looking characters (bit like 'M.A.S.K.'). I might also add I believe this was the first and possibly only cartoon that dealt with terrorists? the good guys actually battling a force that isn't shy about letting themselves be known as terrorists, don't think that would happen anytime nowadays. On to the film...hmmm tricky, very tricky. I was highly dubious when this was announced, even more so when it came out, the levels of CGI in this film was mind blowing. The story basically sets up a few characters on both the good side and bad and takes us through how 'Cobra Commander' comes to power. Sommers decided to only use a handful of the massive roster of characters which was probably a good choice but one wonders if a few more could have been stuck in there, the ones with cool outfits perhaps. I liked how they kinda went about this as a prequel of sorts, setting up how the bad guys come to be, it also sets up the obvious sequel and seeing the main bad guys in full swing. The story was handled quite well I thought, like I say I don't really know the backgrounds to these people but after some research and watching the film it all fit together well, some changes aside *ahem*. I liked how the main two villains ('Commander' and 'Destro') have their stories told and we see how they become their more famous personas. I liked the small flashbacks that gave us clues about various other characters and their backgrounds, and in all fairness I thought the characters looked pretty neat too. Sure they all looked like rehashed characters from other sci-fi/action films, nothing really original, but they looked solid, believable and realistic, not campy as was feared. The problems arise with the acting for one thing, its awful!. Didn't exactly expect it to be stunning but these guys really do move and sound like plastic figures. The worst easily being Tatum followed easily by Marlon Wayans who I don't even think you can call an actor. What was worse was the fact certain actors seemed to take it seriously, Eccleston, Quaid and Pryce I'm looking at you, at the same time Levitt was doing a brilliantly campy 'Batman' villain, Adewale Akinnuoye-Agbaje (jesus!) simply can't act end of and the same can be said for Miller. I don't understand Hollywood sometimes, they wanna make an adaptation like this, clearly they wanna make it semi serious to appeal to the wider audience and to jump on the 'Bond'/Marvel/'Mission: Impossible' type bandwagon which was in full swing. But then they go and cast people who can't act and who star in regular garbage, why on earth would you cast Wayans in this? right there you have a huge negative already, do you want an action flick or some dumb childish pratfall gag reel?. We then come to the hideous CGI issue. This film reminded me of the 'Star Wars' prequels with their massive CGI elements and multiple finales, I think this film really tries for that similar final bang towards the end. To a degree they do achieve that, I can't deny the scope of the film is impressive with tonnes going on, plenty of visual imagination and action, all manner of crafts, subs, weapons, aircraft etc...all over the show. The problem is its so damn hectic its hard to make out what's going on, it really is a complete rip off from 'Star Wars' in how the films acts are staged and of course the CGI is bad, real bad, the cartoon looked better lol!. You can see its a Sommers film because 'The Mummy' films had dreadful CGI too. Unsurprisingly the film is a very loud, fake looking, badly acted, explosion filled wet dream for Toys R Us. But you gotta look at this collectively, yes its complete trash of the highest order and yes Hollywood should know better. But on the other hand I'm sure the targeted audience will love it and wanna buy the toys, job done. Its a shame Hollywood never seems to learn and keeps producing such nonsense when they could make something half decent, especially with such rich material as this. But again at the end of the day we all know what to expect these days, we all know PG-13 is the favoured way to go and if you're honest the film does deliver what it promises for who its intended, you can't really deny that. So yeah the film is rubbish and the prime example of modern day CGI filled crapola made purely for merchandise n money. I did enjoy some of it like I said, the plot wasn't half bad amazingly, the characters did look like their toon/comic counterparts I think (in some cases), shame about 'Cobra Commanders' crappy looking mask at the end. Miller was hot in her tight outfits whilst 'Snake Eyes' and 'Storm Shadow' were easily the best looking, most exciting and intriguing characters (bit like 'Scorpion' and 'Sub-Zero'). Offering plenty of bang for your buck no doubt and a fun brainless night in perhaps, I suppose it does what it sets out to do, just poorly. The sequence where 'Duke' and 'Ripcord' are suited up in those special astronaut type outfits and tearing through Paris to get to the Eiffel Tower, probably one of the worst effects/action sequences I've seen in a long long time. Truly ridiculous, bogged down with utterly lame visual comedy/gags courtesy of Wayans and it all looks nasty.
Phil Hubbs
Super Reviewer
Now growing up, I was never a huge G.I. Joe cartoon fan. I had all the toys, but was never too big on the cartoon. Having watched this movie, I really hope the cartoon was never this bad. This movie is good to look at, but everything else about it really isn't that great. The story is weak, the acting is bad, and the use of Cobra Commander is pretty lame. Channing Tatum stars as Duke, the new head of the G.I. Joe group, and they battle the Cobra group as they try to use a new technology to take over the world. Tatum is probably the best thing about the movie, other than Snake Eyes who is pretty awesome. Marlon Wayans and Dennis Quaid both seem out of place, and Joseph Gordon-Levitt is so underused it's ridiculous. Not sure if true G.I. Joe would really be fans of this(I know a couple that hated it), but I'm sure kids new to the franchise will like it. I'd say skip it altogether and go straight for the sequel or just about any other action movie.
Everett Johnson
Super Reviewer
G.I. Joe: The Rise of Cobra Quotes
There are no approved quotes yet for this movie.