G.I. Joe: The Movie
(1986)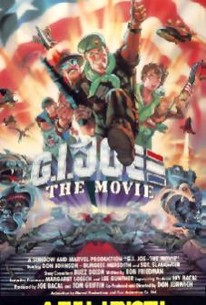 Movie Info
When Golobulus (Burgess Meredith) and Cobra plot to eliminate mankind and repopulate the world with a vicious race of ancient reptilians, it's up to Duke and company to prevent them from acquiring the technology that will enable them to do so in this feature-length adventure based on the classic cartoon series. Centuries after being driven underground during the ice age, the Cobralas are back, and ready to reclaim the planet. They've developed a plant with spores that possess the power to drain humans of their life force, but the only way they can get the spores to mature is by using the Broadcast Energy Emitter - a revolutionary device with the capability to provide enough energy for the entire planet. As Duke sinks into a deep coma following a fierce fight on the battlefield, Lt. Falcon (Don Johnson) rises to the challenge of leading the Joe team on their most important mission to date.
Critic Reviews for G.I. Joe: The Movie
Audience Reviews for G.I. Joe: The Movie
½
I'm watching this at the moment, so this isn't a full review yet, but so far it's much more true to the show than the new live action movie.
½
Wow i hadnt seen this in a long time. Watched it tonight with my daughter. It was very very bad . just wow. .w hat a really bad movie :)
John Manard
Super Reviewer
½
G.I. Joe: The Movie is yet another '80's toy advertisment. Now I was a huge fan of G.I. Joe, but this movie ruined it for me. Cobra Commander was some weird snake man from a civilization in the Himalayas? WTF? That's not Larry Hana said! Pretty much a rehash of the plot to the Transformers movie with Don Johnson voicing the cocky good guy that becomes a hero. I can't forget Burgess Meredith as Golobulus, a snake man with an attitude.
Chris Garman
Super Reviewer
G.I. Joe: The Movie Quotes
There are no approved quotes yet for this movie.