Ghoulies II
(1988)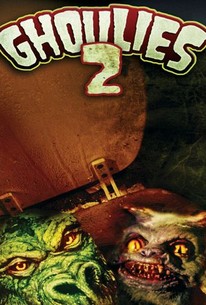 Movie Info
This pedantic sequel to Empire Pictures' less-than-original Ghoulies was released directly to video and summarily slipped into oblivion. At the outset of this one, the title creatures -- rubbery puppets originally conceived as cut-rate Gremlins lookalikes -- are shanghaied by a priest who intends to exterminate them, but they manage to escape to a low-rent carnival. There they take up residence in "Satan's Den," a foundering, old-fashioned haunted house attraction run by Royal Dano, who fears he may lose ownership of the show due to sagging attendance. The presence of the ghoulies at first gives business a much-needed boost ... until the slimy little buggers start dining on the patrons. Despite some enhancements in the lackluster monster effects (by John Buechler, who's done better work elsewhere) and clever stop-motion animation by David Allen, this film is just as pointless as its predecessor. There is, however, one memorable scene, which makes good on the promise of the first film's ad campaign -- which featured one of the reptilian critters leaping from a toilet bowl, accompanied by the tagline "They'll get you in the end!"
Critic Reviews for Ghoulies II
Audience Reviews for Ghoulies II
OK lets just get one thing straight here, these films do not follow any continuity from one to another. The 'Ghoulies' turn up out of nowhere, captured by some guy who is trying to exterminate them for good. From these rather abstract beginnings the naughty creatures turn up in a kooky crappy carnival where they rather predictably cause suspicious deaths and trouble. There is a bare minimum plot about the workers of the carnival not making enough money to keep their jobs and the evil company (company?) manager setting deadlines to hand in good receipts of business. At first I thought the Ghoulies were gonna help the carnival folk make their ghost ride more scary so they could make more money and keep their jobs (sounds solid right?), but no. Nothing really happens throughout as you would have expected, some people get killed which are thought to be attractions but who cares? all you wanna see is Ghoulie gore. There is some gore here but not a massive amount, more than the first but this installment lacks the atmosphere of the first. Very very cheap looking all round but the puppets still look pretty cool, you also get some stop motion animation of the creatures also. Expected better really as I prefer the original but the ending in this is quite amusing and very B-movie/trashy, so much so its good.
Phil Hubbs
Super Reviewer
Tacky 80's fun. I am incapable of taking this seriously. And it's just as well, since there isn't much of a story. If you like 80's stuff or c-grade horror, this is going to be right up your alley.
Nicki Marie
Super Reviewer
The sequel of Ghoulies is not so great, but just funny. The Ghoulies are back and in a carnival fun house. I was amused by the way other people thought the ghoulies were part of the attraction while witnessing actual killing and death. This time the Ghoulies have stop-motion scenes where we actually see them walk, but mostly they're confined to popping from the corners of screens where we can not see the arms of puppeteers guiding them.
Dean McKenna
Super Reviewer
Ghoulies II Quotes
There are no approved quotes yet for this movie.