Ghostbusters (1984 Original)
(1984)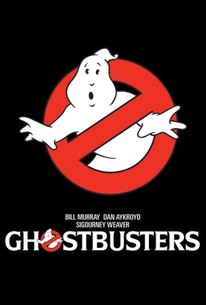 TOMATOMETER
AUDIENCE SCORE
Critic Consensus: An infectiously fun blend of special effects and comedy, with Bill Murray's hilarious deadpan performance leading a cast of great comic turns.
Ghostbusters (1984 Original) Videos
Ghostbusters (1984 Original) Photos
Movie Info
Bill Murray, Dan Aykroyd, Harold Ramis and Ernie Hudson star as a quartet of Manhattan-based "paranormal investigators". When their government grants run out, the former three go into business as The Ghostbusters, later hiring Hudson on. Armed with electronic paraphernalia, the team is spectacularly successful, ridding The Big Apple of dozens of ghoulies, ghosties and long-legged beasties. Tight-lipped bureaucrat William Atherton regards the Ghostbusters as a bunch of charlatans, but is forced to eat his words when New York is besieged by an army of unfriendly spirits, conjured up by a long-dead Babylonian demon and "channelled" through beautiful cellist Sigourney Weaver and nerdish Rick Moranis. The climax is a glorious sendup of every Godzilla movie ever made-and we daresay it cost more than a year's worth of Japanese monster flicks combined. Who'd ever dream that the chubby, cheery Stay-Puft Marshmallow Man would turn out to be the most malevolent threat ever faced by New York City? When the script for Ghostbusters was forged by Dan Aykroyd and Harold Ramis, John Belushi was slated to play the Bill Murray role; Belushi's death in 1982 not only necessitated the hiring of Murray, but also an extensive rewrite. The most expensive comedy made up to 1984, Ghostbusters made money hand over fist, spawning not only a 1989 sequel but also two animated TV series (one of them partially based on an earlier live-action TV weekly, titled The Ghost Busters. ~ Hal Erickson, Rovi
News & Interviews for Ghostbusters (1984 Original)
Critic Reviews for Ghostbusters (1984 Original)
Audience Reviews for Ghostbusters (1984 Original)
½
I know a lot of Gen-Xers hold a nostalgic place in their hearts for the original "Ghostbusters," but I just couldn't really get into it. Bill Murray's lazy snark is just not my cuppa, and the demon hunting plot is just kinda whatever.
Alice Shen
Super Reviewer
½
I think I will never really grasp what made this mildly entertaining movie so adored when it was released; it is funny and has great performances (especially Bill Murray, ad-libbing insanely), but it drags a bit and the special effects look awfully cheesy and dated today.
Carlos Magalhães
Super Reviewer
½
"Ghostbusters" stands as one of the best horror/comedies out there. It is hilarious in almost every sense of the word, even if not in the conventional way, and it never falls short with the cheesy scares. It can be genuinely shocking at times but that is taken away immediately throughout the film, especially due to the lack of seriousness. This all being said, "Ghostbusters" is an extremely unique film that will never be able to be touched by any filmmaker. It's smart, cool, slick, witty, scary, and intense. The only issue this film has is that the title is not explored to it's highest potential. It sets up a great premise but it takes just a tad too long to reach the climax in my opinion. Overall, I loved every minute of "Ghostbusters" and it deserves the fame that it has.
Ghostbusters (1984 Original) Quotes
There are no approved quotes yet for this movie.