GETT: The Trial of Viviane Amsalem
(2015)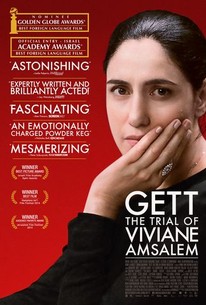 TOMATOMETER
AUDIENCE SCORE
Critic Consensus: On paper, GETT: The Trial of Viviane Amsalem might seem less than thrilling, but on the screen, it delivers two hours of nonstop, tightly wound, brilliantly acted drama.
GETT: The Trial of Viviane Amsalem Photos
Movie Info
An Israeli woman (Ronit Elkabetz) seeking to finalize her divorce from her cruel and manipulative husband finds herself effectively put on trial by her country's religiously-based marriage laws, in this riveting drama from sibling directors Shlomi and Ronit Elkabetz (Late Marriage and The Band's Visit) who is also one of Israeli cinema's most acclaimed actresses. In Israel there is neither civil marriage nor civil divorce; only rabbis can legalize a marriage or its dissolution, which is only possible with the husband's full consent. Viviane Amsalem has been applying for a divorce for three years but her husband Elisha (Simon Ebkarian of Casino Royale and Persepolis), will not agree. His cold intransigence, Viviane's determination to fight for her freedom, and the ambiguous role of the judges shape a procedure in which tragedy vies with absurdity, and where everything is brought out for judgment, apart from the initial request. (C) Music Box Films
News & Interviews for GETT: The Trial of Viviane Amsalem
Critic Reviews for GETT: The Trial of Viviane Amsalem
Audience Reviews for GETT: The Trial of Viviane Amsalem
½
An infuriating look into a misogynist, patriarchal society/legal system dominated by outrageous religious values that force women to be in a position of submission and humiliation before their husbands - which is something that seems inevitable in a theocratic state like Israel.
Carlos Magalhães
Super Reviewer
½
Three years after having separated from her husband Elisha(Simon Abkarian), Viviane(Ronit Elkabetz, who co-wrote and co-directed with Shlomi Elkabetz) wants a divorce. However, that is not as easy as it sounds, as she discovers when she is joined by her lawyer Carmel(Menashe Noy) in rabbinical court. First, she is told by the judges to move back in with her husband. When that does not work out, they return to court where Elisha is very uninterested in showing up again. When he does return to court months later, it is with his brother Shimon(Sasson Gabay), a rabbi, and is still not wanting to give his wife a divorce. So, witnesses are called. If done right, courtroom dramas can explore any number of hot button issues. As such, "Gett: The Trial of Viviane Amsalem" is the best one in a long time in not only being a powerful examination of how hard it is for a woman to be granted a divorce in Orthodox Judaism, but also bringing it expertly down to a personal level, as led by a stunning performance from Ronit Elkabetz. Then, through a series of side stories told by the witnesses, the viewer can see that Viviane's case is not an isolated one.(Currently, there are people facing criminal charges for physically intimidating recalcitrant husbands in cases like these.) Overall, the movie's limited location of the courthouse also serves to claustrophobically illustrate her precarious position.
GETT: The Trial of Viviane Amsalem Quotes
There are no approved quotes yet for this movie.