Get Rich or Die Tryin'
(2005)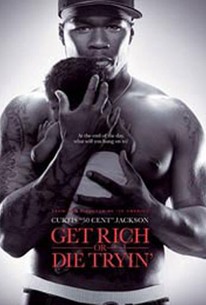 TOMATOMETER
AUDIENCE SCORE
Critic Consensus: While it may be based upon 50 Cent's own life experiences, Get Rich Or Die Tryin' is too similar to many other rags-to-riches stories to resonate.
Get Rich or Die Tryin' Photos
Movie Info
Marcus has always known he was going to be a rapper, but when his mother is murdered, he turns to dealing and hustling drugs to pay the rent. As his world spirals out of control, he begins to apply the same manic intensity to his writing as he does to dealing; he has to write down his words to stay sane. For years, he endures this living hell until a tragedy that nearly kills him gets Marcus to change his life.
News & Interviews for Get Rich or Die Tryin'
Critic Reviews for Get Rich or Die Tryin'
Audience Reviews for Get Rich or Die Tryin'
½
Marcus: I'm a gangsta grandpa and I'm proud of it. "At the end of the day, what will you hold on to?" Get Rich or Die Tryin' is a nice try I guess. 50 Cent is someone whose been in a lot of movies(granted most are direct to dvd garbage) since this, but that I still don't really view as a serious actor. It's kind of hard to here with the performance he throws out to. He's so dull and lifeless. His character is interesting, but very little comes out of his performance. The film is helped by a supporting cast that has some good names like Terrance Howard and Viola Davis. But when your leads performance is so dead, it brings the whole film down with it. This follows the life of a gangsta who lost his mother(a drug dealer) at a young age. He was forced to move in with his grandparents and live in the basement. He hid the fact that was dealing drugs and involved in the thug life for as long as he could, but soon he leaves home and starts his own life of trying to get money. He's taken under the wing of a more experienced thug and starts getting all the respect of the neighborhood. But what Marcus wants more than anything else is to be a rapper. This is a movie that is similar to, but not nearly as good as, Hustle & Flow. This one is more dramatic about how bad the life of the street is, but it's still less effective. I liked the movie for what it is I guess. It has an interesting story and is entertaining, but nonetheless it fails because of a lead that doesn't really move us. This is a decent try and all, but there's much better movies about how bad the life of a gangsta is. I enjoyed it to a degree, but it's something I'll probably never revisit. It's worth a look, I guess, as long as you find the subject material interesting. Just don't expect a whole lot.
Melvin White
Super Reviewer
Critics are trippin! A true come up story that is very real and very good.
Eric Alvarez
Super Reviewer
Brilliant biography! 50 cent is at his best with this film. Love the soundtrack! A definite must see!
Bethany Murphy
Super Reviewer
Get Rich or Die Tryin' Quotes
There are no approved quotes yet for this movie.