Get Bruce
(1999)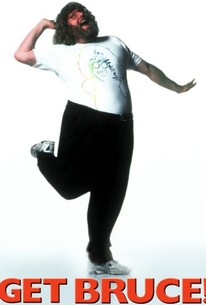 Movie Info
He has been entertaining us for years with his rare brand of wit and humor, but most of us may not even know his name: Bruce Vilanch. As comedy writer on almost every major award show and laugh doctor to some of Hollywood's biggest stars, Get Bruce celebrates the career of one of show business's hardest-working unsung heroes. In interviews from his celebrity client list, Billy Crystal, Whoopi Goldberg, Robin Williams, and Paul Reiser sing his praises and share anecdotes that amuse and delight. When sharing stories, they never manage to delve deeply for too long before the room explodes into wisecracks and jokes. Vilanch's first muse was actually Bette Midler, who discovered him during her humble beginnings at a nightclub in Chicago. It is he she credits for introducing her to Sophie Tucker, still a staple of her act today. Get Bruce is not skin deep, however; from a childhood with adoptive parents in New Jersey to landing a job as a reporter at the Chicago Tribune to his active life in Los Angeles, you bounce along with Vilanch. There is wonderful heart to this generous and committed man with his wild hair, clad in selections from his trademark T-shirt collection, In a medium that is all about collaboration, it is refreshing to see a film about a subject who is rarely in the spotlight. Outspoken, sometimes touching, but always hilarious, Get Bruce raises the curtain, exposing an incredible talent in a very lively film.
Critic Reviews for Get Bruce
Audience Reviews
There are no featured reviews for Get Bruce at this time.
Get Bruce Quotes
There are no approved quotes yet for this movie.