Georgia Rule
(2007)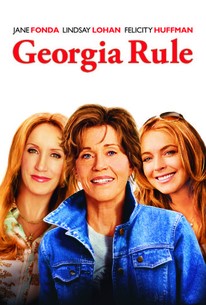 TOMATOMETER
AUDIENCE SCORE
Critic Consensus: Comedic and dramatic in all the wrong places, Georgia Rule is a confused dramedy that wastes the talents of its fine cast.
Movie Info
Jane Fonda, Felicity Huffman, and Lindsay Lohan star in director Garry Marshall's tale of a rebellious young woman who is sent to spend the summer with her grandmother when her frustrated mother fails to find a means of curbing her unruly behavior. Rachel (Lohan) is an out-of-control teen whose reckless drinking, foul mouth, and hysterical fits have become a constant source of embarrassment for her long-suffering mother, Lily (Huffman). When Rachel crashes her car, Lily determines that the only way to tame her savage daughter is to take her as far away from San Francisco as possible. Though Lily had once sworn never to return to the Idaho farm presided over by her demanding mother, Georgia (Jane Fonda), desperation has a funny way of dulling the pains of the past, and it's not long before Lily is packing Rachel in the car and setting out for potato country. Contrary to the common image of the sweet and doting grandmother, Georgia is a stern matriarch whose beliefs in the power of God and a hard day's work stand in stark contrast to the carefree lifestyle of the tempestuous Rachel. An interesting thing happens as the summer wears on, though; despite her initial efforts to disrupt the quiet Mormon community, Rachel's rage is gradually tempered as she learns the value of structure and responsibility. Later, as Rachel's protective walls begin to crumble and she begins to embrace compassion and kindness, the doors are opened for three generations of family to confront the long-buried secrets of their past and finally move forward in the healing process.
News & Interviews for Georgia Rule
Critic Reviews for Georgia Rule
Audience Reviews for Georgia Rule
Jane Fonda's always worth watching but this movie is a mess.
WASN'T INTERESTED IN SEEING THIS MOVIE, BUT I HAPPEND TO COME ACROSSED IT ON T.V. ON A BORING SUNDAY NIGHT. THE TRUTH IS I HAD NO DESIRE TO SEE THIS MOVIE BECAUSE IT STARS LINDSAY LOHAN. NOT A BIG FAN, BUT WHEN SHE TRYS, SHE CAN ACT. THIS MOVIE THOUGH WASN'T WATCHED BY MANY BECAUSE OF ALL THE HYPE IT WAS GETTING ABOUT LOHAN BEING LATE, AND SO AND SO ON. SO IT WAS PRETTY MUCH BEING TREATED LIKE IT HAD THE GIGLI DESEASE. I DIDN'T WATCH IT THINKING IT WAS GOING TO BE GOOD. I WAS SORTA RIGHT AND WRONG. IT WASN'T NEARLY AS BAD AS IT WAS MADE OUT TO BE. IT HAD AN INTERESTING STORY LINE. WASN'T REALLY CARRIED OUT THAT WELL. FELICITY HUFFMAN WAS EXCELLENT IN HER ROLE. LOVE JANE FONDA. LINDSAY... WELL SHE WAS OK. JUST SEEMED LIKE SHE WASN'T REALLY INTO HER CHARACTER. WHICH REALLY WOULD HAVE CHANGED THE WHOLE FEELING ON THE MAJOR ISSUE THIS MOVIE WAS ABOUT. I WOULD RECOMMEND PEOPLE TO SEE THIS, CAUSE IN THE MIX OF IT ALL THERE IS A SOME TOUCHY THINGS THEY ARE TRYING DESPERATELY TO ADDRESS. REALLY COULD HAVE BEEN DONE BETTER WITH A DIFFERENT ACTRESS. LINDSAY JUST DIDN'T DO HER CHARACTER JUSTICE. JUST MEDIOCRE ACTING FROM HER.
♥˩ƳИИ ƜѲѲƉƧ♥
Super Reviewer
no-one should have to admit that theyve seen this... and i never will! .... uh i mean... i never will see it..yea
Coxxie Mild Sauce
Super Reviewer
Georgia Rule Quotes
There are no approved quotes yet for this movie.