Genius
(2016)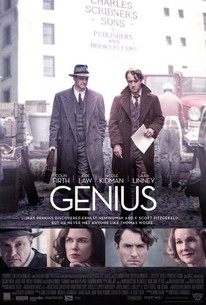 TOMATOMETER
AUDIENCE SCORE
Critic Consensus: Genius seeks to honor worthy subjects, yet never gets close enough to the titular quality to make watching worth the effort.
Movie Info
From Academy Award-nominated screenwriter JOHN LOGAN (Gladiator, The Aviator, Hugo, Skyfall) and acclaimed, Tony Award-winning director MICHAEL GRANDAGE in his feature film debut, comes Genius, a stirring drama about the complex friendship and transformative professional relationship between the world-renowned book editor Maxwell Perkins (who discovered F. Scott Fitzgerald and Ernest Hemingway) and the larger-than-life literary giant Thomas Wolfe. Based on the biography "Max Perkins: Editor of Genius" by A. SCOTT BERG, Genius stars COLIN FIRTH as Perkins, JUDE LAW as Wolfe, NICOLE KIDMAN as Aline Bernstein, a costume designer sharing a tumultuous relationship with Wolfe, LAURA LINNEY as Louise Perkins, Max's wife and a talented playwright, GUY PEARCE as F. Scott Fitzgerald and DOMINIC WEST as Ernest Hemingway.
News & Interviews for Genius
Critic Reviews for Genius
Audience Reviews for Genius
Based on a true story, Genius is a compelling character drama that explores the creative spirit. When book editor Max Perkins comes across a manuscript by struggling writer Thomas Wolfe he sees the potential of a great novelist, and works with him tirelessly to get his books edited and published. The film does an especially good job at showing the collaborative process that artists and editors have. And both Colin Firth and Jude Law deliver incredibly strong performances. However, the plot's a bit formulaic, featuring a lot of standard struggling artist tropes (battle with alcoholism, betraying friends and family, etc.). Also, several characters are underdeveloped; Nicole Kidman in particular is wasted as a stereotypical neglected wife. Yet while it has some problems, Genius is a fascinating look at the creative process and the man who shepherded some of the most prestigious writers of the early twentieth century.
Dann Michalski
Super Reviewer
A film about some of the greatest writers of all time, and the editor who found those very writers? It has to be really well-written right? Well, that's not necessarily the case. While as a concept, 'Genius' is fascinating, it doesn't always live up to the greatness that the subjects of the film bring to the table. First time director Michael Grandage took on the project, and managed to pull in some serious acting talent in Jude Law, Colin Firth, Nicole Kidman, Laura Linney, and Guy Pearce. Quite the cast if I may say, and they are clearly the best thing about 'Genius'. Law, who plays the eccentric Thomas Wolfe, can be over the top and even sometimes out of sync with the tone, is perhaps the most entertaining thing about this story. His unpredictability and tragic nature to how he treats his life and the people in it can be difficult to take your eyes off. Firth is always great, and plays the famous editor, Max Perkins. And Kidman is the standout performer as she adds the most layers to what is mostly a thinly written movie. I just found a whole lot of it to be flat and hollow. There are times where the film is on the brink of greatness, but it never takes that next step. Instead, it too easily falls into the tropes of a clichéd biopic. It's unfortunate, because I really like the angle they were going for. An editor and a writer struggle to juggle both work and family in the midst of writing a book that runs over a few thousand pages. I love movies about behind the scenes stuff, but much like 'Hail Caesar!' from earlier this year, it doesn't go the extra mile to make it more than just your average biopic. The performances are great and the direction is okay, but I needed more out of the script. The film is about as dull as the color coding is. +Kidman & Law +Felt like the 20's +The premise is fascinating -Thinly written script -Beat for beat clichéd biopic 6.9/10
Thomas Drufke
Super Reviewer
Genius Quotes
There are no approved quotes yet for this movie.