The General's Daughter
(1999)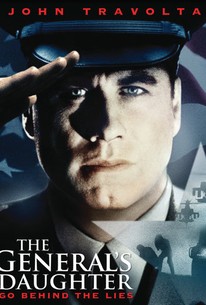 The General's Daughter Photos
Movie Info
A murder on a military base unearths a netherworld of corruption in this thriller based on the novel by Nelson DeMille. General Joe Campbell (James Cromwell) is a respected military leader with a flawless reputation; he's due to retire from the Army soon and is headed for a Vice-Presidential nomination. However, Campbell finds himself in both a personal and political crisis when his daughter is brutally murdered. Captain Elizabeth Campbell (Leslie Stefanson) was beautiful, intelligent, disciplined, and well-regarded, the very model of an ideal female officer; she was also stationed at the same base as her father. Paul Brenner (John Travolta), a warrant officer of the Army's Criminal Investigation Division, is assigned to look into the case alongside CID officer Sara Sunhill (Madeleine Stowe). Brenner and Sunhill were once romantically involved, complicating an assignment that soon offers more than enough complications of its own. Brenner and Sunhill come to realize that, for all her accomplishments, Elizabeth carried a lifetime of emotional scars from emotional abuse and sexual harassment, and that, despite the General's reputation, his relationship with his daughter was not always a happy or healthy one. It also seems possible that the General's second-in-command, General George Fowler (Clarence Williams III), a likely candidate for the Joint Chiefs of Staff, may also be implicated in the crime. The General's Daughter was the second feature film for director Simon West; his full-length debut was Con Air (1997), after a long string of successful television commercials and music videos.
News & Interviews for The General's Daughter
Critic Reviews for The General's Daughter
Audience Reviews for The General's Daughter
The Generals Daughter is a great mystery thriller and one of my favourite John Travolta movies. The movie is loaded with great talent that produce really good performances. Travolta and Stowe have great chemistry in this. The story was a great mystery. The secrets revealed in this story is sickening and really broke my heart for Elisabeth Campbell. To have her father brush away what happened to her and tell her to forget had me fuming. It is not something one could forget and brush off. It was disturbing and gut wrenching watching what happened to her. The movie is one of the better mystery thrillers I have ever seen. A must see in my opinion.
♥˩ƳИИ ƜѲѲƉƧ♥
Super Reviewer
The General's Daughter is an interesting Thriller, but ends up being a fairly average one at best. The film has a decent enough cast starring in it. Overall the film is an average piece of cinema that delivers decent thrills as the main character played by John Travolta seeks to uncover the truth about the murder of a C. at West Point. He uncovers many cover ups and soon discovers that the C.O's daughter wasn't all that she seemed to be. Though a good film, I thought that The General's Daughter could have used a bit more story to the subject matter because here you have a story that is almost flat at times. However theres some good twists and good thrills to be had watching this film. The film is good, but it's nothing terrific. The acting is fairly well delivered, James Cromwell and James Woods are terrific and even John Travolta is good here, but his performance is at times uneven. The film is nothing spectacular in terms of a Thriller, but it has many good things going for it that will surely entertain the viewer. The General's Daughter is an average Thriller with above average acting, it has the potential to be a great Thriller, but it doesn't quit get there. However the film is bound to give you a few thrills as you follow Paul Brenner uncover the truth of the murder in the film. An entertain film that could have been better.
½
A film that warmed up nicely into an ok military Thriller. Particularly liked James Woods in this, who does occasionally show a glimpse of brilliance. Although a very different storyline, there were, I felt, reminders of ?A few good Men? in the theme. An interesting film that?s worthy of a watch and one of Travolta?s better films.
Lady D'arbanville
Super Reviewer
The General's Daughter Quotes
There are no approved quotes yet for this movie.