Gedo senki (Tales from Earthsea)
(2010)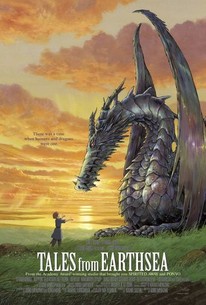 Gedo senki (Tales from Earthsea) Photos
Movie Info
From famed Japanese animators Studio Ghibli comes "Tales from Earthsea," a sweeping adventure set in a mythical world filled with magic and bewitchment. An epic tale of redemption and self-discovery, the story follows the journey of Lord Archmage Sparrowhawk (voice of Timothy Dalton), the master wizard, as he searches for the force behind a mysterious disturbance that has caused an imbalance in the land of Earthsea-suddenly crops and livestock are dwindling, dragons have reappeared and humanity is giving way to chaos. Along the way he rescues Arren (voice of Matt Levin), a troubled young prince who has fled his home and is being pursued by an enigmatic shadow. Arren joins Sparrowhawk on the quest and, moving closer to their intertwined destinies, they cross paths with Tenar (voice of Mariska Hargitay), a former priestess, and her disfigured adopted daughter, Therru. With Sparrowhawk's magical powers dissipating, all of them must band together to defeat the evil Cob (voice of Willem Dafoe) and his henchman Hare (voice of Cheech Marin) before Cob's mania to find immortality destroys Earthsea. -- (C) Disney
News & Interviews for Gedo senki (Tales from Earthsea)
Critic Reviews for Gedo senki (Tales from Earthsea)
Audience Reviews for Gedo senki (Tales from Earthsea)
½
The feature debut of Hayao Miyazaki's son Goro Miyazaki is the weakest offering thus far from the prestigious Studio Ghibli. Far from a bad movie but completely unremarkable and ineffectual in every sense. The animation is good as always (even if it is far from the studio's most notable works) and the Western European settings give the effort a unique look, but most of the film's pros end there. The characters are shallow, boring, and Prince Arren is the most disturbing Studio Ghibli protagonist to date (In the first five minutes Arren murders his father in cold blood for absolutely no reason!?!). The story is also very un-eventful, lacking in action (the dragon you see on the poster is only in the movie for a little bit in the beginning and the end), humor, or majestic grandeur (Goro's direction emulates his father's style competently but lacks the warm soul or youthful invigoration). It also doesn't help that the script feels like it was put through a blender and re-assembled from scratch, making the narrative feel not only thin but scatterbrained as well (the slavery sub-plot is inexplicably dropped after ten minutes). Shockingly mediocre and drab, 'Tales from Earthsea' is Goro's not-so-promising first endeavor into filmmaking. Let's hope he improves in his next project.
Christopher Heim
Super Reviewer
½
Eh, let's just call Tales from Earthsea a case of growing pains for Goro Miyazaki. It's not a bad movie. It's just unremarkable in every way. It doesn't have the creativity, emotional depth, or beauty of Spirited Away, the visual wonder of Howl's Moving Castle, the scope of adventure of Castle in the Sky, the lovable characters of Kiki's Delivery Service, or the sheer delight and fun of Ponyo. If I had to choose a defining feature for Earthsea, I honestly don't know what it would be. The music is fine, but nothing extraordinary. The character designs and artwork are dangerously close to generic, the story lacks tension and feels almost inconsequential, and the writing is bland. Where's the heart? Where's the humor, the passion, or something that would draw me into the narrative? I found myself not caring much about what was happening, and more concerned with how much time was left until the movie was over, than anything else. My expectations for Studio Ghibli are far too high to embrace a movie like this that barely scrapes above mediocrity, and from what I've heard from fans of the Earthsea literature, this isn't the adaptation they were hoping for, either.
½
Studio Ghibli Project 3 Directed by Gorō Miyazaki and voices by Bunta Sugawara, Okada Junichi, Aoi Teshima and Jun Fubuki. Let me just say this was my number 1 film to see in 2006 after seeing the trailer and the pictures they were posting on websites and the movie looked amazing! And after hearing Therru's song I knew I was going to love this so much and this time it was Goro Miyazaki directing, But no. The film in all accounts failed to the point I just wanted to cry I mean really? Same thing happened with 2010's Antichrist I just about walk out of this really boring and dull movie so or lots were calling a masterpiece. I must say it's too bad that the talent that his father has doesn't get past throw genres or we could be looking at one of the best movies ever made. It's just so sad. To just say something I had no idea what the story was about? It's just one thing to another and it just really screwed the movie all the way. Even the ending didn't make much...well I didn't even understand It, what the hell happened? [IMG]http://i55.tinypic.com/2enby8m.jpg[/IMG] 5/1% for story: it's really dull and boring and slow the only good part is listening to Therru's beautiful song and then that's it. I read all the books and to me this movie and the books shouldn't even be called related. 15% for voices and dubbing: They sometimes sound good but then it just hits downhill from there. Not the worst but in the bottom ten. 90% for visuals and animation: truly the amazing part about this dull movie has all the designs for a normal Ghibli film and some epic landscapes but that's just it. 20% for characters: I mean they look fantastic and there amazingly design but I hated them all but the two leads ones Aaron and Therru. 30% for everything else: Not sure what else I should say? [IMG]http://i54.tinypic.com/iyecz7.jpg[/IMG] But by the end I don't know why I was so looking forward to seeing this? Goro you don't have talent and please do not make an animated version on Joe D'Amato Endgame (He is considering it). Keiko's score 29-100
Gedo senki (Tales from Earthsea) Quotes
There are no approved quotes yet for this movie.