Gayby
(2012)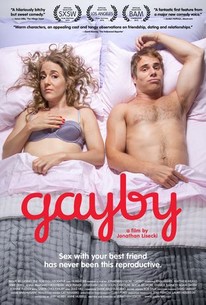 Movie Info
Jenn (Jenn Harris) and Matt (Matthew Wilkas) are best friends from college who are now in their thirties. Single by choice, Jenn spends her days teaching hot yoga and running errands for her boss. Matt suffers from comic-book writer's block and can't get over his ex-boyfriend. They decide to fulfill a youthful promise to have a child together... the old-fashioned way. Can they navigate the serious and unexpected snags they hit as they attempt to get their careers and dating lives back on track in preparation for parenthood? Gayby is an irreverent comedy about friendship, growing older, sex, loneliness, and the family you choose. -- (C) Wolfe Releasing
News & Interviews for Gayby
Audience Reviews for Gayby
½
In "Gayby," Jenn(Jenn Harris) is a yoga instructor in New York City who feels her life is going nowhere. Not only does she feel like a glorified messenger at work, but she is also single. That is also with her biological clock ticking. Loudly. So, she approaches Matt(Matthew Wilkas), her best friend from college who now works in a comic book store where he tries to avoid his ex-boyfriend, about having a kid together. He agrees, even if being physical together is more than a little awkward after they reject the turkey baster method. With delicacy and much humor, "Gayby" handles a complex subject well and smartly.(Definitely compared to the time it came up on "Warehouse 13" recently when it felt creepy. Maybe it was just those two characters.) While almost wearing out its welcome, the characters never do, as they live and work in a New York City full of loneliness that is countered with extended non-traditional families. Personally, I find it cool that it is also a city full of comic book stores where stereotypes can be challenged and gay archetypes explored.
½
Surprisingly funny script for an independent LGBT film. (Such films tend to be too niche for wider appeal.) Decent acting with attractive cast. Recommended.
Christian C
Super Reviewer
The main characters are likable enough--and give endearing performances--but the film is too much like a cliche-heavy sitcom and thus falls flat.
Matthew Samuel Mirliani
Super Reviewer
Gayby Quotes
There are no approved quotes yet for this movie.