Game Over, Man!
(2018)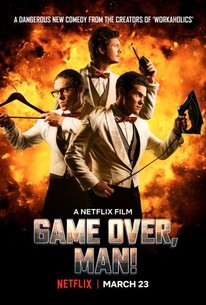 Movie Info
During a star-studded Los Angeles party, three zeroes become heroes (sort of) when the hotel they work at is taken hostage by bad guys. From the creators of Workaholics, this action comedy comes locked and super loaded on March 23.
News & Interviews for Game Over, Man!
Critic Reviews for Game Over, Man!
Audience Reviews for Game Over, Man!
It is a tough task of balancing black humour and a coherent plot line. Hot Fuzz successfully balanced this blend, but Game Over, Man! cannot stop a one joke premise from feeling too much. Great central characters and playful banter, I was on board for the humour and cameos. What let the film down was the excessive plot device and one liners that don't come off. This was an interesting choice for the creators and I only hope they bounce back with something else. 19/05/2019
Brendan O'Connor
Super Reviewer
Our favorite Workaholics have moved on from the small screen over the last two years since the series wasn't renewed. Adam DeVine, Anders Holm, and Blake Anderson used Game Over, Man to reprise these characters (albeit in a slightly deviated version) for one last time on the big screen. What's fun is it gives fans like us a chance to see these three knobs run around in a different setting instead of an office, but to also wish them a solid farewell should they never reprise them again. Game Over, Man isn't new or smart or engrossing, but it is stupid, funny, and ridiculous. Right down our most trusted trio's alley. The movie is a clear satire of Die Hard right down to mimicking characters specifically in line with Die Hard's. Neal McDonough steps in for Alan Rickman. Sam Richardson is the overtly confident black IT hacker. The parallels are unmistakable. But where this movie really goes off the hinges is the side actors. You've got Steve Howey (from Shameless) as a gay but thoughtful murdering henchmen. Aya Cash as a 'yes' woman to her boss Daniel Stern (from Home Alone fame) as a big swinging owner of the hotel. Everyone is just so outrageous with their characters that you cannot help but be miffed at how silly everything is. I'm not sure this falls under the stoner movie category as much as it does the parody action film category, but it should still satiate anyone looking to blindly pop on Netflix to pass an hour and a half. Most Workaholics fans will see this, if not all, thanks to the direction from Kyle Newacheck (Karl). Keeping the gang together is really the most important virtue.
Lane Zieben
Super Reviewer
½
I'd much rather watch any randomised episode of Workaholics, where the budgets may be smaller, but at least every now and then a joke will land.
Game Over, Man! Quotes
There are no approved quotes yet for this movie.