Gambit
(2012)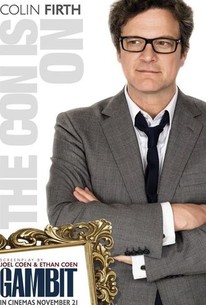 TOMATOMETER
AUDIENCE SCORE
Critic Consensus: A curiously charmless caper that squanders a starry cast and screenplay by the Coen brothers, this Gambit doesn't pay off.
Movie Info
Colin Firth and Cameron Diaz headline this remake of the 1966 crime caper directed by Michael Hoffman (The Last Station) and written by Joel and Ethan Coen. A British thief (Firth) discovers that no plan is infallible when he recruits a beautiful woman (Diaz) to help him steal a priceless statue from an impossibly wealthy widower (Alan Rickman). Despite the fact that his pretty accomplice bears an uncanny resemblance to his affluent target's late wife, things quickly spin out of control once the job gets under way. ~ Jason Buchanan, Rovi
News & Interviews for Gambit
Critic Reviews for Gambit
Audience Reviews for Gambit
½
Art Scam Flick Rings Hollow. Mediocre Comedy! The film is very short, and when it ends you wonder what possessed the Coen Brothers to make it. Cameron Diaz is extremely irritating and the character goes nowhere. Tom Courtenay was wasted in his role and some of the so called funny situations are too contrived ie when they book into the London hotel. The twists in the tale aren't twists at all, just cop outs. It just seems a pointless film and is not clever or funny enough. Colin Firth is a brilliant actor but sometimes his lightweight film choices are very strange. A disappointment. Curator Harry Deane is an expert in fine art, but he's equally accomplished in taking abuse from his insolent boss. That's about to change. The plan - trick the avid art collector into buying a fake Monet painting. To assist in the heist, Deane hires a rowdy Texas cowgirl to help him fool the richest man in England. But as the plan begins to unravel, Deane finds he is falling in love with the rodeo queen, ensuing further complications.
½
Average film saved by the charm of Colin Firth and Alan Rickman but almost scuttled by Cameron Diaz's dinner theatre quality performance of a part that should have been played by Reese Witherspoon.
½
The only reason this film has the Coens' name all over it is because there was simply no other way to have promoted this movie. So slapping the name of well-respected screenwriters, known for their topnotch dialogue and idiosyncratic characters, onto this would've gotten some people, that otherwise wouldn't have cared about this movie, partly interested in watching it. With that said, do I think that the film we got here was faithful to the script that the Coens wrote? Absolutely not, I don't think there's any way that their script even made it to the actual shoot without massive rewrites. What I'm guessing is that they paid someone a LOT of money to not take credit for their work on rewriting the script into something more accessible to a casual audience. If you've watched more than three of the Coen brothers' films, and I've watched nine of them, then you can pretty much pick up on their style almost right out of the gate, even if they're not credited for their work on a particular film. Same thing with Tarantino. Here's an example: Tony Scott did a movie based on a Tarantino script, True Romance, a script he sold in order to get Reservoir Dogs financed, as a useless trivia note. Watching that film, outside of the fact that it is edited in chronological order, you can still tell by the dialogue and the long monologues that it's very much a film that Tarantino had a hand in writing. If they made changes to the script, it must have been minor because I didn't notice them. And I think the Coens have that same distinctive style that you can pick up on from a mile away. Yes, they may have developed the original script, but someone else took it and made it into something else unrecognizable from the original adaptation. With that stupid rant out of the way, this film didn't exactly set the world on fire. It benefits from Colin Firth's comedic timing and presence, Alan Rickman's reliably solid performance. But the film is just not that funny when you get right down to it, nor does it really develop its plot all that well. You're thrust into the middle of this story with no real set-up. They have a limited time, so why waste time I suppose. There's some memorable moments with the hotel receptionists. These are the funniest moments of the film and they only inspire a modest chuckle at best. I do like that the film has a light and airy tone reminiscent of films from generations past. Even the intro credits hint at this, I was reminded of the Pink Panther opening credits with its animated style. Colin Firth and Alan Rickman are good, well as good as they can be with this pretty lame script, but Cameron Diaz is just absolutely dreadful. Her southern accent is so exaggerated that I'd rather jam knives into my ears than listen to her. This is just as bad as Dick Van Dyke's British accent in Mary Poppins. The only difference is that not as many people will have seen this film, but I just thought she was dreadful in this movie. I'm sure she's nice and all, but the only thing I thought Diaz was good in was Bad Teacher. And that's only because the character was so detestable and Cameron seemed to relish, and thrive, in that. That movie still sucked, but she was good in it. I digress, she's dreadful here. Outside of Diaz's performance, there's nothing in this movie that's terribly offensive. Nothing made me want to pull my hair out, it's just not a particularly good film, even with some talented people attached to it. I don't think I'll remember this film a week from now and I think that's the best thing about this film. You watch it and you're done with it. It doesn't linger in your mind like a virus. That's a positive in its own way, right?
Jesse Ortega
Super Reviewer
Gambit Quotes
There are no approved quotes yet for this movie.