Fuzz
(1972)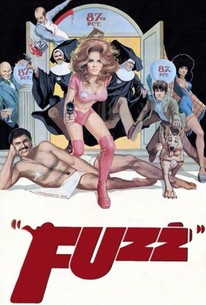 AUDIENCE SCORE
Critic Consensus: No consensus yet.
Movie Info
This comedy affectionately spoofs police dramas and boasts a screenplay by Evan Hunter, the real name behind the detective novels of "Ed McBain," whose works were extremely popular in Germany, giving rise to over thirty films. In this story, The Deaf Man (Yul Brynner) repeatedly targets local politicians for bombings, and detectives Carella, Meyer, Brown and King (Burt Reynolds, Jack Weston, James McEachin and Tom Skerritt) are the policemen assigned to track him down. All are distracted by the charms of Detective McHenry (Raquel Welch). Though nothing runs smoothly at the stationhouse, the search continues.
Critic Reviews for Fuzz
All Critics (2) | Top Critics (1) | Fresh (2) | Rotten (0)
It's an offbeat, funny, quietly cheerful movie in which Ed McBain's 87th Precinct is finally brought to life.

Fuzz may not be up to the standards of M.A.S.H. or The Hospital, and it may take its time gathering momentum after each foray into realism, but it does have its moments of high hilarity and for that we should be properly appreciative.
Audience Reviews for Fuzz
Ok, so Fuzz definitely won't win any awards for originality or even pushing the envelope, but it doesn't need to. It's one of the most enjoyable cop dramedies that Robert Altman never made. It really does feel Altmanesque to me at times (if there is such a thing). The word is that its two main stars, Burt Reynolds and Raquel Welch, didn't get along so well during the filming. That may or may not be true, but I know that they don't really share any scenes together at all, so I couldn't see it as being a major problem. Apparently, the film is based on a series of novels by Ed McBain. There were some changes, as always, including giving the city an official place and setting, as well as pushing it into more comedic territory. It's tone is definitely not consistent, and it doesn't really succeed at any tone it's trying to settle on at the time, but it winds up being fun anyways. That's a pretty tough thing for a dramedy. Yeah it works, but the wheels do squeak a bit.
Tim Salmons
Super Reviewer
Fuzz Quotes
There are no approved quotes yet for this movie.