Fur: An Imaginary Portrait of Diane Arbus
(2006)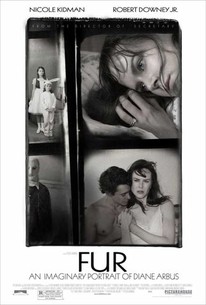 Fur: An Imaginary Portrait of Diane Arbus Photos
Movie Info
Photographer Diane Arbus was considered one of the most mysterious, enigmatic and frighteningly bold artists of the 20th century. Most known for her obsession with "freak" subject matter, her haunting work emerged from a deeply private place. Arbus' death was as mysteriously tragic as was the aura surrounding some of her most piercing portraits.
Critic Reviews for Fur: An Imaginary Portrait of Diane Arbus
Audience Reviews for Fur: An Imaginary Portrait of Diane Arbus
½
Diane Arbus (Nicole Kidman) is an artistically repressed housewife whose creativity is awakened when a circus freak (Robert Downey Jr.) moves upstairs. An interesting imaginary premise, but the movie gets trapped in unconvincing and disappointingly conventional romance, ending with a superficial, uninspiring message (sometimes abandoning your children is just the price you pay for great photography).
"Fur: An Imaginary Portrait of Diane Arbus" could easily be a modern "Beauty and the Beast" directed by Tim Burton. I have to say that the beast is not that bad; he actually looks like a cute dog, maybe a Cocker Spaniel. But the fact is that, in this case, David Lynch could fit better with the Arbus's work. Don't get me wrong, the movie is directed by Steven Shainberg, the same director of "Secretary". Not having seen Secretary yet, my interest was totally in Diane Arbus. Even knowing it was "an imaginary portrait", I expected something more biographical and maybe more faithful to the image I have of Arbus. Her photos can lead us to such a portrait, but knowing a bit about her we know she was not "one of us"*, but was more to a nice intruder. (Susan Sontag talks about it in "On Photograph"). Also, Nicole Kidman's Diane, and this is not her fault, could be both a model of Allan's ads or Arbus's strange photos, not mentioning that she seems a contemporay version of her previous Viginia Woolf. The film is not bad but it ends up resuming Diane Arbus into a fetishist herself and tries to explain her work by her supposed inner freak. But don't take me that seriously. "Fur" can be a good watch, specially if you like fantasy genre. *Freaks, directed by Tod Browning.


Rubia Carolina
Super Reviewer
½
"You see someone on the street, and essentially what you notice about them is the flaw." -Diane Arbus A provocative tribute to misunderstood genius, Fur is one part biography and two parts fairy tale. Ominous yet oddly endearing.
Randy Tippy
Super Reviewer
Fur: An Imaginary Portrait of Diane Arbus Quotes
There are no approved quotes yet for this movie.