Funny Face
(1957)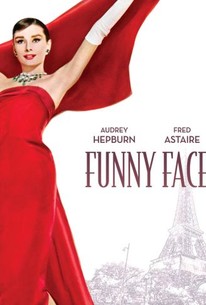 Movie Info
This filmed version of the 1927 George Gershwin Broadway musical Funny Face utilizes the play's original star, Fred Astaire, and several of the original tunes, then goes merrily off on its own. Astaire is cast as as fashion photographer Dick Avery (a character based on Richard Avedon, the film's "visual consultant"), who is sent out by his female boss Maggie Prescott (Kay Thompson) to find a "new face". It doesn't take Dick long to discover Jo (Audrey Hepburn, who does her own singing), an owlish Greenwich Village bookstore clerk. Acting as Pygmalion to Jo's Galatea, Dick whisks the wide-eyed girl off to Paris and transforms her into the fashion world's hottest model. Along the way, he falls in love with Jo, and works overtime to wean her away from such phony-baloney intellectuals as Professor Emile Flostre (Michel Auclair). The Gershwin tunes include the title song, "S'wonderful", "How Long Has This Been Going On" and "He Loves and She Loves"; among the newer numbers is Kay Thompson's energetic opener "Think Pink". For years available only in washed-out, flat prints, Funny Face was eventually restored to its full Technicolor and VistaVision glory. ~ Hal Erickson, Rovi
News & Interviews for Funny Face
Critic Reviews for Funny Face
Audience Reviews for Funny Face
I love Audrey Hepburn. I like Fred Astaire. I like director Stanley Donen. I love musicals. I hate "Funny Face." Watching "Funny Face" was like overdosing on sugar. You might be like, 'Steven? How can you hate "Funny Face" and like something like "High School Musical?"' Well, my answer is easy. With a movie like "High School Musical" the songs are helping tell the story and let you connect to the narrative and the characters. (Um, like ANY good musical) The songs in "Funny Face" have so little to do with the overall arc that when they happen (and they happen about every 5 minutes) the entire film has to stop. "Funny Face" seems like it runs 3 hours. Sure, Hepburn and Astaire are likable, like always, but they are really sticking to their wheelhouse here. There is nothing new and everything else is so schmaltzy that it renders the entire thing pat. "Funny Face" is just too silly, too tiresome and too meandering for me to actually enjoy.
Steven Carrier
Super Reviewer
Audrey Hepburn can't sing for crap (dubbed) but that beatnik dance scene stays with you forever, and the chemistry between her and Astaire makes this a classic.
Spencer S.
Super Reviewer
½
Great dancing and some iconic songs but not the highlight of either of the two lead's careers. Full review later.
Thomas Bowler
Super Reviewer
Funny Face Quotes
There are no approved quotes yet for this movie.