Full Metal Gokudô (Full Metal Yakuza)
(1997)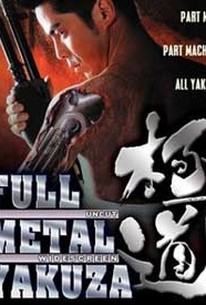 AUDIENCE SCORE
Critic Consensus: No consensus yet.
Full Metal Gokudô (Full Metal Yakuza) Photos
Movie Info
Japanese horror auteur Takashi Miike directed this bizarre, ultra-violent variation on Robocop. Kensuke Hagane (Tsuyoshi Ujiki) works as a janitor for Tousa, the head of a powerful Yakuza family; Kensuke looks up to Tousa, and wants to join the organization some day. While Tousa is serving seven years in prison, Kensuke is given his chance, but he lacks the courage to do much more than the most menial tasks. Things change, however, when Kensuke is driving Tousa home after his stay in prison is over; the pair are ambushed by enemy gangsters, leading to a vicious gun battle in which Kensuke is mutilated and Tousa is killed. They're rescued by Hiraga Genpaku, a crazed medical genius who rebuilds Kensuke using parts of Tousa's body as well as the latest in bionic technology. Now possessing super-human powers as well as Tousa's impressive physical strength, Kensuke is transformed into a super-Yakuza who sets out to take down the men who killed Tousa and nearly cost him his life. Full Metal Gokudo was originally released direct to video in Japan but won a theatrical release and a cult following elsewhere. ~ Mark Deming, Rovi
Critic Reviews for Full Metal Gokudô (Full Metal Yakuza)
All Critics (2) | Fresh (0) | Rotten (2) | DVD (4)
If you don't see the similarities between this movie and Robocop, there's something wrong with you...
July 13, 2004
little new here to expand Miike's universe of carnage and perversity
May 31, 2004 | Rating: 2.5/5
Audience Reviews for Full Metal Gokudô (Full Metal Yakuza)
½
An inept gangster is killed during a hit on the boss he idolizes and awakes to find himself turned into a cyborg by a mad scientist. Full Metal Yakuza is basically Robocop meets Frankenstein with dick jokes. The effects budget obviously ran to single figures and there's more ham on display than in a butcher's shop window, but somehow Miike's perverse vision makes it a bizarre freakshow that's strangely difficult to take your eyes off. There's plenty of action and gore and the theme of a super-powered lunatic in a world of violence and sexual bondage makes it feel like the prototype to his brilliantly oddball Ichi The Killer. In the end it's too extreme and generally cheap looking to appeal to casual observers but gore fans interested in the work of Miike may get a kick out of it. It's hardly essential viewing though...
What if Robocop were a weird Japanese exploitation flick? Miike answers that question and more in this great low budget shocker with moments of extreme violence, hilarious comedy and fairly decent characters.
Christopher Brown
Super Reviewer
½
A cheeseball that sometimes manages to be more insightfull and funny than most would think it is. Still, not the best from Miike, worth for a very fun performance by Tomorowo Taguchi as the crazy scientist.
Tsubaki Sanjuro
Super Reviewer
Full Metal Gokudô (Full Metal Yakuza) Quotes
There are no approved quotes yet for this movie.