Full Contact
(1992)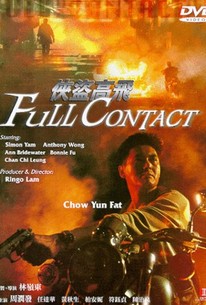 Movie Info
Another entry into the "cheer for the most likeable bad guy" series of Hong Kong action flicks, Full Contact tells the oft-told tale of betrayal and revenge, but serves it up as a potent cocktail of Western convention mixed with the trademarked Hong Kong style. When Jeff's (Hong Kong superstar Chow Yun Fat in true hard-case form) friend Sam (Anthony Wong) steps on the feet of a local loan shark, Jeff comes to his rescue, creating a powerful enemy in the vengeful gangster. Seeking to skip town and make good, the two hatch a plan to hijack an arms shipment with the help of Sam's flamboyant and malicious cousin Judge (a delightfully sleazy Simon Yam) and his gang of dysfunctional thugs. What Jeff doesn't know is that he's being double-crossed by the wild group of brutal killers, who plan to bury him as they make their getaway. Judge forces Sam to off his loyal friend Jeff, but Sam botches the job, leaving Jeff to return for bitter revenge after dealing with an emotionally painful betrayal and a physically challenging rehabilitation. Director Ringo Lam foregoes the melodrama of Hong Kong counterpart John Woo and goes straight for the jugular with unremittingly stark and graphic violence. At the same time, the characters retain a certain amount of sympathy, keeping their relationships and reactions realistic and identifiable. ~ Jason Buchanan, Rovi
Critic Reviews for Full Contact
All Critics (8) | Fresh (7) | Rotten (1) | DVD (5)
Clearly this is a movie made in a world where the "MPAA" holds no sway; the violence is intensely brutal. In a good way, though.
With Full Contact, Lam takes the action genre and proceeds to not merely transcend it but explode it.
March 30, 2003 | Rating: 10/10
Audience Reviews for Full Contact
½
In "Full Conact," Sam(Anthony Wong) owes Hung(Nam Yin), a loanshark, a lot of money. So much so, that Hung is prepared to torture him and start removing body parts to get it back. But luckily for Sam, Godfrey(Chow Yun-fat) comes to the rescue in the nick of time, not least because the money was for a good cause. That resolved, they still have Hung after them, more so than ever. So the guys send Godfrey's fiancee Mona(Ann Bridgewater) back to Hong Kong, while they team up with the Judge(Simon Yam) for a heist that might resolve their immediate money worries. While the robbery does not go off on time, the doublecrossing does... "Full Contact" proves the old adage that it is not a good sign if the opening credits sequence is superimposed over a scene at a strip club. Overall, the movie is a seriously dated action movie that is very violent, often times needlessly so.(You would think thieves would show more subtlety and restraint when carrying out jobs, wouldn't you?) But thankfully, the movie does get better in its second half, as it gets more thoughtful with a few directorial flourishes from Ringo Lam thrown in. That still does not help it escape being little more than a B movie that might have once been shown at 3:00 am on HBO.
"Full Contacti" is a conventional story of betrayal/revenge as many others we haven seen on the screen. The differential of this movie are the great action scenes. The choreography of the fights is amazing and stylish sequences of the bullets in a gun shot. This story is conventional and forgettable, but also a worthwhile entertainment.
Not a classic but still a fun ride from the pre-hollywood days of Ringo Lam and Chow Yun Fat. Also, great performance by Simon Yam as the charismatic over-the-top villian.
Tsubaki Sanjuro
Super Reviewer
Full Contact Quotes
There are no approved quotes yet for this movie.