From Time to Time
(2009)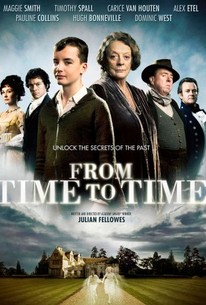 Movie Info
In times of war two centuries apart, two distinct worlds are linked by a single family and the house in which they live. It is 1944 and thirteen year-old Tolly Oldknow is sent to spend Christmas with his grandmother, whilst his mother searches for news of his father in wartime London. In the old house, he becomes a witness to events during the Napoleonic wars and finds himself slowly drawn into participating in the drama. Invisible to most people in the past, yet able to move amongst them, he begins to unravel the mystery which has bewildered his family for two centuries. The solution to the puzzle leads him into his greatest adventure yet.
Critic Reviews for From Time to Time
Audience Reviews for From Time to Time
In spite of surrounding itself with a very talented cast, this movie isn't more than average. I think there's a made-for-TV feel to this movie, and not in a good way. For a movie about time travelling, there's nothing magical or, really, that exciting going on here. The film sees Tolly, played the absolutely awful Alex Etel, discovering the secrets of Green Knowe by going back and forth in time at random points as he sees Green Knowe's history and figures out its mysteries. Problem is, the film does this without any sense of style or wonder. The time travelling aspects happen just because it's the only way to get Tolly there, it's used as a way to move the story forward and it doesn't really add any sense of magic or wonder to the film. Another thing, Alex Etel, as I mentioned, is just ABSOLUTELY HORRENDOUS in this movie. For a character that is supposed to carry some emotional baggage, as his father is believed to be dead but he's the only one who still has hope, he is just absolutely awful. He's just completely robotic with wooden delivery and actually detracts from the overall quality of the film, not that the film is that good to begin with, but a good lead would've made it a little better. There's this moment in the film where Tolly finds out what happened to Jacob and Susan and Tolly, depressed at what he finds, starts to cry and it was about the worst thing you've ever seen. They only show this for like 3 seconds, before quickly cutting away, because they knew how bad it actually was. On top of that, you have a script that doesn't really create a compelling and magical story, especially with the concept. It sucks that the supporting cast is so good, because their talents are completely wasted and it's a shame. This film might actually have one of the worst leads I've seen since Chris Massoglia in The Hole. Good supporting cast but a lame execution of a decent concept.
Jesse Ortega
Super Reviewer
I just love this kind of movie. Delightful. Heartwarming. Historical. Imaginative...in a good way. This was a sweet English drama for young adults, and people like me.
Cynthia S.
Super Reviewer
½
I liked it a lot more than most I guess. I thought it was sweet and a fun mystery for young adults.
Sunil Jawahir
Super Reviewer
From Time to Time Quotes
There are no approved quotes yet for this movie.