From Prada to Nada
(2011)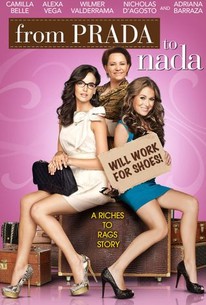 From Prada to Nada Photos
Movie Info
From Prada to Nada is a modern twist on Jane Austen's Sense and Sensibility, is a new romantic comedy starring Camilla Belle, Alexa Vega, Wilmer Valderrama, with Kuno Becker and Academy Award (R) nominee Adriana Barraza (Babel, Actress in a Supporting Role, 2006). It's a whimsical fish-out-of-water story of two spoiled sisters: Nora (Camilla Belle), a law student, and Mary (Alexa Vega), an undergrad party girl, living with their father in a luxurious mansion in Beverly Hills. Mary has become so "90210" she refuses to admit she is of Mexican descent. When dad suddenly passes away, their posh lives are turned upside down. They discover they have been left penniless and are forced to move into their estranged aunt Aurelia's (Adriana Barraza) modest but lively home in the Latino-centric Boyle Heights neighborhood of East LA. They are terrified to leave their world of privilege; neither Nora nor Mary speak Spanish or have ever had to take on actual responsibility. The girls gradually adapt to their new environment; their BMW and Prius are traded for the public bus and a used car. As they embrace the culture that for so long they refused to accept, they both discover romance, the true meaning of family, and they learn that the life of PRADA actually means NADA without love, family and community. Lionsgate presents in association with Televisa and OddLot Entertainment an OddLot Entertainment Gilbert Films Lionsgate Televisa Hyperion Films production. Película realizada con el estímulo fiscal del Artículo 226 de la Ley del Impuesto Sobre la Renta (Eficine). Directed by Angel Gracia from a screenplay by Fina Torres & Luis Alfaro and Craig Fernandez, from Jane Austen's Sense and Sensibility. -- (C) Lionsgate
News & Interviews for From Prada to Nada
Critic Reviews for From Prada to Nada
Audience Reviews for From Prada to Nada
Cast: Camilla Belle, Alexa Vega, Wilmer Valderrama, Nicholas D'Agosto, April Bowlby, Kuno Becker, Adriana Barraza, Pablo Cruz, Karla Souza, Alexis Ayala Director: Angel Gracia Summary: Two Latina sisters accustomed to luxury and high style become penniless when their father dies, forcing them to move in with working class relatives, in this spirited comedy loosely based on Jane Austen's "Sense and Sensibility." My Thoughts: "I liked the movie. It was just a light dramedy that had some likeable characters. Well likeable by the end, the beginning, not so much. It took some time to warm up to the characters but when I did I didn't hate them. The acting was good by most. But this is one of the better straight to DVD dramedies out these days. Good job by Alexa Vega. Camilla Belle was just lifeless in this role, but you can't blame her for it was the character that made her such a bore. But not a bad film. Even Wilmer Valderrama did a good job in his supporting role. Just a flick that would be good to watch on a long rainy day."
♥˩ƳИИ ƜѲѲƉƧ♥
Super Reviewer
½
I thought that this was cute. And when did Wilmer Valderrama grow up to be such a hottie? hmmmm. Anyway, not the best, but definitely enjoyable enough.
Cynthia S.
Super Reviewer
I was expecting this film to be funny with a little bit of drama; it was actually drama with a little bit of comedy. It was not as silly as advertised. However it does dive into Mexican culture, but adds some predictable romantic twists. It was well acted with Wilmer Valderrama fitting nicely into this film. Overall it was not what I expected, but a solid film. If you love Mexican culture then this is a must-see.
Gregory Dark
Super Reviewer
From Prada to Nada Quotes
There are no approved quotes yet for this movie.