Fright Night 2
(1989)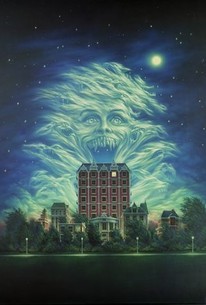 Movie Info
This horror-comedy sequel finds the teen protagonist of Fright Night being terrorized by the undead sister of the vampire he killed in the original film. Two years after the death of bloodsucker Jerry Dandridge, young Charley Brewster (William Ragsdale) has settled into life as a college student and rejected his former belief in the existence of vampires. Although he's busy pursuing the affections of determined coed Alex (Traci Lind), Charley soon falls under the spell of the mysterious and alluring Regine (Julie Carmen). Although everything about the woman screams vampire, her feminine charms -- and her claims of being nothing but an outlandish performance artist -- lead Charley to become her unwilling servant. Torn between Regine's enchantments and his loyalty to Traci, the youth again looks for help from Peter Vincent (Roddy McDowall), the washed-up horror-show host who assisted him in the first film. Soon, Charley, Peter, and Traci are facing off against a coven of picturesque bloodsuckers led by Regine, who reveals herself to be the ancient sister of Jerry Dandridge. Directed and co-written by John Carpenter colleague Tommy Lee Wallace, Fright Night Part 2 includes a co-writing credit for Pretty Woman scribe Stephen Metcalfe and cinematography from Mark Irwin, who has worked with everyone from David Cronenberg to the Farrelly brothers. ~ Brian J. Dillard, Rovi
Critic Reviews for Fright Night 2
Audience Reviews for Fright Night 2
EightThirty .
Super Reviewer
Being a die-hard fan of the original Fright Night, I finally got around to seeing the sequel. I had heard mixed things about, and I was skeptical about seeing it. However, I found the film to be pretty good, but not as good the original. This sequel is a more laid back flick than the first. Watching the first film, you realize that there is a different tone in atmosphere with this one. The film is good, but lacks the elements that made the first one such a classic. The problem with this film is that it essentially follows the same ideas as the first. With that being said, Fright Night Part 2 offers nothing really new or original, but is nonetheless a fun little film. This is one of those sequels that could have been great, but it's slightly disappointing. This film could have been better if Stephen Geoffreys who played Evil Ed would have returned. The film is slightly more tongue in cheek than the original, and is gorier, which ruins the tone of the film a bit. The original Fright Night wasn't gory and tended to rely more a dark atmosphere to create its horror. However with this sequel, the filmmakers went for more gore, which for me anyhow cheapened the film a bit. The standouts here are Julie Carmen as Regine Dandrige and Traci Lind as Alex, Charley's new girlfriend. The script may not be as solid as the first film, but this is still a pretty good vampire film. This could have been a far better sequel as well. The film had some good ideas on-screen, but I think that they could have toned down the gore and make it a bit more atmospheric. The sensual traditional vampire elements were there, and Julie Carmen was definitely perfect in her part. The best way to describe Fright Night Part 2 is as a cheesy, mindless good time. Just don't go expecting something memorable like the 1985 classic, you'll be disappointed. However as far as real vampire films are concerned, this is still one of those films that keeps with the traditions. This is a film worth seeing and still fun, just not as fun as the original.
½
This was a completely unnecessary sequel to a great film, not to mention it is more than just a major downgrade in filmmaking. Vampires randomly come in, the main cast change their minds from the thoughts they originally had by the end of the first movie, which makes absolutely no sense, and overall, this film disgusted me. A director who had nothing to do with the first film decided to helm a sequel that stared lead female vampires and a vampire that doesn't like blood, but enjoys to eat insects. Besides the ridiculously similar plot line, the bad acting, the untrue dialogue, and the stupid jump scares, there are a few moments that reflect on the original and would make any viewer smirk. However, the originality is missing, which makes this film almost unwatchable to think it is a sequel to a classic. I will never watch this movie again and quite frankly I despise the creators for thinking of it! What a shame!
Fright Night 2 Quotes
There are no approved quotes yet for this movie.