Friday Night Lights
(2004)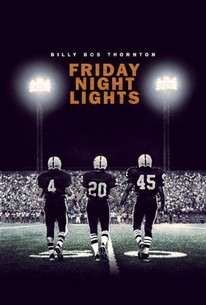 TOMATOMETER
AUDIENCE SCORE
Critic Consensus: An acute survey of the football-obsessed heartland that succeeds as both a stirring drama and a rousing sports movie.
Friday Night Lights Videos
Friday Night Lights Photos
Movie Info
A drama that chronicles the entire 1988 season of the Permian High Panthers of Odessa, Texas, with football players, coaches, mothers, fathers, pastors, boosters, fans and families struggling with ongoing personal conflicts while the team fights for a state championship. A town for sale, Odessa, Texas has seen better days--the financial bust evident in its boarded-up shops and broken lives. Yet one hope sustains the community where, once a week during the fall, the town and its dreams come alive beneath the dazzling and disorienting Friday night-lights. When the Permian High Panthers take to the field. In a city where economic uncertainty has eroded the spirit of its inhabitants, nearly everyone seeks comfort in the religion of the Friday night ritual, where the unfulfilled dreams of an entire community are shifted onto the shoulder pads of a team of high-school athletes.
News & Interviews for Friday Night Lights
Critic Reviews for Friday Night Lights
Audience Reviews for Friday Night Lights
½
Another film about football, this sports drama has been lauded by critics for its grotesque portrayal of on-field action, its raw emotion, and fighting spirit. It went on to inspire a television show that was a critical darling until its end in 2011, and remains one of the few sports movies that many relate to and love. The film follows the Odessa-Permian panthers in their 1988 season, a real team that was characterized by a book of the same name in which this film was based. It follows the team as their star coach has to grapple after the injury of one of their best players, and the ensuing losing streak. The film becomes an underdog tale as the team struggles to gain a foothold among the other teams competing for the title of state champion. Like other sports movies the action is rather built up, there is the tension of the town's Southern poverty thanks to an oil shortage in that year, and the characters having to traverse the regular hardships of their teenage existence. The town itself has a perverse stake in the football season and this generation's prowess, their interest ever present but most so in the beginning of the film, and though addressed throughout with an ex-champion father to one of the players, now a loud alcoholic played by Tim McGraw, there isn't really any change in that attitude. Instead that small town arrogance permeates the rest of the film and this football team's prominence is covered by the town's radio, television, and public opinion, which is simply sickening. The film also does not represent its characters very well, only briefly looking at their personal lives and more often than others cutting to the football field where they are harassed and abused by their assistant coaches and family members. The characters are badly defined, most often badly acted, and forgettable. "Boogie" is the only empathetic or interesting character, and he barely has anything to do with their season. In the end the attitude of sports being most important prevails, and none of the characters show any growth, only expressing their sadness at never playing again. Besides being an underdog story there isn't much tension, and with all the buildup that's vitally important, which is why this film leaves you deflated.
Spencer S.
Super Reviewer
½
A movie is rare when they make a movie as good as Friday Night Lights, and a movie that is the best performance from Billy Bob Thorton ever. The plot is the best sports plot ive seen since Rudy or Hoosiers. The characters were all great, they all gave a backround of themselves by their expression, really good acting. I was surprised to discover the music was tremendous, really well made. The cinematography was really shaky for a football movie. This movie was amazing.
Jim Careter
Super Reviewer
Mike Winchell: This is for the state championship. I love all of ya'll, baby. I love all of ya'll.  "Hope Comes Alive on Friday Night" As far as football movies or sports movies in general go, Friday Night Lights sets itself apart from most. I don't know if I've seen another movie that captures the emotion of high school athletics as well as Friday Night Lights did. Anyone who's ever played a high school sport knows the emotion that's involved. That last game of the season and for about 95% of the players; the last game of their lives.  The State Championship sequence is highly manipulative. I'll be the first to admit that. Everything about it is manipulative. But it's undeniably well-made, emotional, and powerful. For many of the players, it is the biggest moment of their life. They aren't going to have another day where 55,000 people are screaming and their only a touchdown away from a state championship.  The characters are all well developed and are all deeply moving in their own way. Billingsley can't hold on to the football, but he fights through that and ends up being one of the teams best players. Winchell is a hard working and tough quarterback who never gives up on himself or his team. Boobie is the most talented player, but also the most cocky. That is until he goes down for the season. He rallies around his team even though he can't play, and it's killing him. Hell even Billingsley's dad is moving. Yeah he's a piece of crap to his son at the start. But he grows to be a good dad at the end in a pretty emotional shot. We can't hear what he says to his son, but we really don't need to. If you love sports and know the emotions that are involved; this movie cannot be missed. It's really a spectacular look at one season and how it can affect a town in so many ways.
Melvin White
Super Reviewer
Friday Night Lights Quotes
There are no approved quotes yet for this movie.