Freud
(1962)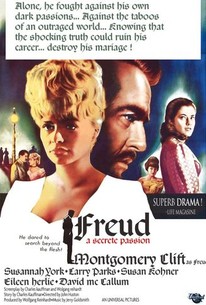 Movie Info
Filmed in Germany by American director John Huston, Freud is a sincerely felt but overly simplistic biopic of the pioneering psychotherapist. The brooding, introspective Montgomery Clift was a curious choice for the role of Sigmund Freud; at times he looks more off the beam than some of his patients (his comic-opera Viennese accent doesn't add to the credibility). The screenplay takes the shape of a detective mystery, attempting to link various crises in Freud's private and professional life with his theoretical conclusions, most often doing so within well-staged dream sequences. Less successful are the scenes with the poor unfortunates who come to Freud for help, notably an embarrassing sequence with a young man suffering from an Oedipus complex. Freud was at one point supposed to have been scripted by existentialist playwright Jean-Paul Sartre, who gave up after he realized that the subject would require a four- or five-hour film at the very least.
Audience Reviews for Freud
The idea of making a film about Sigmund Freud (1856-1939), the legendary founder of psychoanalysis, is not immediately attractive. The film is a great drama, but closet drama, in which most of the action takes place within the mind. The question is how to translate this action into a viable script that would produce a film from which audiences would not flee? Film makers discovered three ways to make the tragicomedy of Freud's heroic years filmworthy. First, they depict Freud thinking to himself as he stalks around Vienna at night, in top hat and overcoat. This technique of dramatizing historic though processes led them to have Montgomery Clift, who portrays Freud, do a great deal of staring. What Freud does relatively well is depict a brilliant man's search--even though his discoveries, like Charcot's treatments of hysterics, come a bit too easily and too casually. However, for anyone eager to establish a useful timetable of early psychoanalysis, a good biography remains indispensable...
Cinema Films
Super Reviewer
Freud Quotes
There are no approved quotes yet for this movie.