The French Connection II
(1975)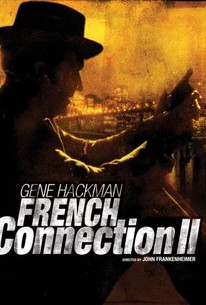 The French Connection II Photos
Movie Info
This sequel to the Oscar-winning The French Connection picks up almost exactly where the earlier film leaves off. Still on the trail of drug kingpin Frog One (Fernando Rey), narcotics officer "Popeye" Doyle (Gene Hackman) leaves his Manhattan stomping grounds and heads for Marseilles. There, Popeye is captured by Frog One's minions, who pump him full of drugs in hopes of turning the cop into a hopeless junkie. After a grueling "cold turkey" treatment, Popeye is up and about and chasing after the villains, determined to mete out justice. ~ Hal Erickson, Rovi
Critic Reviews for The French Connection II
Audience Reviews for The French Connection II
½
Not as exciting as the first installment (at least not until the final 15 minutes of the film), Perhaps too much time was spent on the addiction/recovery aspects of the story, and I did not feel the international political intrigue was played up as well as it might have been. Still, it is a worthy sequel.
Christian C
Super Reviewer
½
A great follow up to the first and in many ways just as entertaining. It's more about Popeye Doyle rather than the case, but that's basically what I would want. Gene Hackman plays the character so well that you could watch him for hours and not get tired. I love the fact that it actually ties into the first one without becoming dependent on it. While it might have the same look, it's a very different film. The characters change and it becomes more about revenge. The heroin scenes really do have an effect on you and I think it's a step that was necessary to make it as gritty as the original. Definitely a great movie that can stand on its own as a crime epic.
Conner Rainwater
Super Reviewer
Incredibly grim sequel to one of the best hard-boiled cop movies of the 70s, Popeye Doyle blusters into France to find himself out of his depth and completely ineffectual in this strange land. Add to this the humiliation of being kidnapped and completely broken by the bad guy who deliberately hooks him on heroin, and a wrath-filled vengeance is assured. Sometimes difficult to watch, but a powerful sequel.
The French Connection II Quotes
There are no approved quotes yet for this movie.