Free Fire
(2017)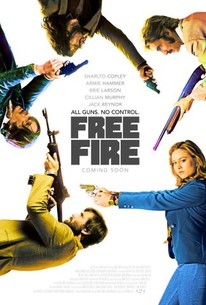 TOMATOMETER
AUDIENCE SCORE
Critic Consensus: Free Fire aims squarely for genre thrills, and hits its target repeatedly and with great gusto -- albeit with something less than pure cinematic grace.
Movie Info
Bold, breathless and wickedly fun, Free Fire is an electrifying action comedy about an arms deal that goes spectacularly and explosively wrong. Acclaimed filmmaker Ben Wheatley (Kill List, High Rise) propels the audience head-on into quite possibly the most epic shootout ever seen on film as he crafts a spectacular parody -- and biting critique -- of the insanity of gun violence. Everyone's got a gun, and absolutely no one is in control. Set in a colorful yet gritty 1970s Boston, Free Fire opens with Justine (Oscar (R) winner Brie Larson), a mysterious American businesswoman, and her wise-cracking associate Ord (Armie Hammer) arranging a black-market weapons deal in a deserted warehouse between IRA arms buyer Chris (Cillian Murphy) and shifty South African gun runner Vernon (Sharlto Copley). What starts as a polite if uneasy exchange soon goes south when tensions escalate and shots are fired, quickly leading to a full-on Battle Royale where it's every man (and woman) for themselves. Packed with witty one-liners, flamboyant characters and remarkable feats of cinematic gunplay, Free Fire is a full-throttle action extravaganza that keeps things fresh and fun with Wheatley's alternately buoyant and savage sense of humor. Swinging from the madcap to the macabre and back again, the film is an exhilarating experience that will leave you quite literally blown away
News & Interviews for Free Fire
Critic Reviews for Free Fire
Audience Reviews for Free Fire
The promotional campaign for Ben Wheatley's "Free Fire" had me convinced it would be the divisive filmmaker's first film to truly satisfy. Wheatley's got talent, and each of his films have impressed me on one hand and let me down on another. "Kill List" and "A Field in England" are the biggest examples I have of this. He revels in fractured, sub-coherent plotting and uneasy genre-blending; and I have found the results frustrating so far. With the Scorsese stamp of approval, "Free Fire" looked to be a stylish, straight-forward yarn with a simple albeit bold hook that could fully and unpretentiously display Wheatley's entertaining side. The result is Wheatley's most accessible film to date. Set primarily during one sustained action sequence (a shootout in an abandoned warehouse), "Free Fire" cooks as a straight, no-frills action thriller with comedic elements. Wheatley has dropped the Lynchian flourishes and surreal horror found in most of his work for something resembling a "Budget Tarantino." Dialogue is fired faster and with more reckless abandon than bullets in the picture. It's as if there are two shootouts running congruent to each other for 80 minutes. The film's greatest strength is it's cast. This is an uncommonly A-grade ensemble for such a grungy little piece of work.
I don't understand the praise and hype heaped upon filmmaker Ben Wheatley. He's got a nice eye for visuals but whenever I see his name attached as a screenwriter, my expectations sink. His 2016 film High Rise was on my list of the worst films of last year. To my mind, Wheatley is Nicolas Refn (Neon Demon) lite, and I don't even care for Refn. With that being said, the premise and star power for Free Fire looked enough to even out my immediate hesitation about watching another Wheatley film. It looked like fun. How could it not be? Well I'm now debating whether I disliked Free Fire more than High Rise, a scenario with no real winner. In 1978, two gangs meet in a Boston warehouse to make an exchange of guns and drugs for money. Things go wrong, tempers flare, and bullets are exchanged. Both parties are pinned down, fighting for cover, and looking to come out alive and on top. There's Cillian Murphy, Oscar-winning Brie Larson, Armie Hammer, Michael Smiley, and Sharlto Copley among this dingy dozen. Exiting my theater screening, I got into a discussion with my pal, Ben Bailey. He was adamant that the story premise of Free Fire could not be done as a feature film and was, at best, the sort of material for a 20-minute shoot-em-up short. I argued that with the proper development there could be a scraggly feature film here but the key phrase is "proper development," something that is sorely lacking from Free Fire. Ultimately it feels more like Ben's assessment: 20 minutes of thin material and thought stretched out to an interminable 85 minutes. Once the shootout commences, it feels like Wheatley just succumbs to the cacophonous confusion of the action and more or less gives up. For a solid twenty minutes or so, the movie is nothing more than a series of disjointed shots of people firing and people taking cover from wooden boxes and planks, rarely if ever coalescing to produce a sense of direction, momentum, and geography. I didn't know where anybody was and especially in relationship to anyone else. That is a crucial factor in action sequences especially in a limited location action sequence. You need to know who is where and establish different mini-goals and new challenges. Wheatley only introduces new elements late into the proceedings, and when he does they are anticlimactically resolved. When complications do arrive they are brushed aside and we go back to shooting. Why not involve the guns in those crates as something to be fought over to gain extra leverage? That seems like an obvious goal but not to the characters on screen. I lost track of which characters were with which side, and the movie even tries to make the same joke, as if knowingly acknowledging this aspect forgives Free Fire for its plotting misfires. As minute after minute of blind shooting went on, I started making connections to a question I have had with Terrence Malick (Tree of Life, Song to Song) movies, namely how does one edit these things? If you've never seen a modern Malick movie, first consider yourself fortunate, but the man is known for his whispery, stream-of-consciousness spiritual connections with nature. My question with Malick movies: how does someone know that this shot of light through the leaves needs to be here, and definitely before this shot of a caterpillar moving along a tree branch? How do you edit what is bereft of a traditional coherency? I wondered the same question during Free Fire. Without those mini-goals, how does one edit just gunshot after gunshot after gunshot without any credible change in the story's impetus as guidance? Compounding my boredom and general confusion is the reality that these criminal lowlifes are dull characters and not worth the investment. Wheatley and co-screenwriter Amy Jump fail to provide interesting personalities or quirks or anything memorable to enliven these tough-talking bad-shooting bad guys. Some of them have accents, one of them is a woman, one of them likes to smoke pot, but really they're all slight variations on the same excitable, profane, and shallow archetype, the kind of character that gets their own poster in marketing with a nickname like "The Kid" or something cool-sounding like that, but it's all posturing. I thought that Free Fire might be reminiscent of the rise of Tarantino knockoff films in the 90s (The Big Hit, 2 Days in the Valley, Things to Do in Denver When You're Dead, Suicide Kings) but this movie actually made me yearn for a Tarantino knockoff. These people are so lifeless. I didn't care who lived and who died. They were all boring. Some faces are recognizable like Hammer and Smiley and Murphy but a majority of the characters are not, at least initially visually distinctive. It's a failing of creativity to separate them, make them distinct. Much of the acting is just reacting to squibs going off and squirming on the ground. If you have a fetish for Brie Larson (Kong: Skull Island) wriggling, this is your film. By default the best actor is Copley (Hardcore Henry) as he seems to be on an uncontrollable improv stint, rapidly saying whatever things comes to mind. Something has to fill the audio between gunfire. Free Fire wants to be a scuzzy, crazy, fun movie that knows it's trashy and revels in its bad taste and loony characters with nose-thumbing glee. Instead, Free Fire is a nihilistic and tedious enterprise lacking entertaining characters, coherent action, and most importantly any general sense of fun. Watching characters that are unmemorable, who you don't care about, fire guns indiscriminately for a long time is not a movie, and it's most certainly not a good movie. It's a glorified training manual for firearms. Free Fire takes too long to get started with poorly developed characters and when it does kick into action the movie doesn't really improve too much. Free Fire is a Tarantino knockoff that doesn't have the courage of its own B-movie convictions. It thinks just dressing the part is enough, substituting style and a blithe attitude for not even substance but the appearance of substance. It only has one truly memorable, queasy death, so even when it comes to bizarre violence it falters. This is one movie that wants to look cool and irreverent but ends up merely firing blanks. Nate's Grade: D+
Nate Zoebl
Super Reviewer
Films revolving around one location throughout its entire run time have always been hit or miss for me. Films like 127 Hours that work unique visuals in, in order to tell the story, are remarkable, but films like Free Fire just don't have enough substance to sustain its 90 minute run time. Personally, this film would have worked as great action-packed short film that stuffed everything into about 20 minutes. Although directed with class and performed magnificently by a devoted cast all around, it really comes down to keeping your audience engaged, and while I was, it very quickly became repetitive as the film progressed. Free Fire is quite fun for a while, until it becomes slightly tiresome. Here are my thoughts on this average, yet entertaining shoot-em'-up flick. Plain and simple, Free Fire follows two groups of men (along with one woman) as an arms deal is about to go down. Beginning with a simple misunderstanding, toppled with grudges between certain characters, an all-out gun fight occurs, pretty much lasting the full 90 minutes. Not taken too seriously, this film tries to be comedic at times, but sometimes that aspect falls flat, due to the fact that the hilarity dies out and it starts to take itself a little too seriously, dealing with some pretty dramatic and graphic scenery. This fun and simplistic premise works for the most part, but the action does become repetitive, making for a bit of a bore in the second act. There are quite a few moments when the film slows down in order to service characters that have yet to be developed, but those moments don't last long at all. Each and every time the film decided to slow itself down, I was hoping for some flashbacks for some of the core characters, which would in turn make me care about who lives and who dies. Having not received that, I found myself realizing that wasn't their intention in the first place. This is a film that is meant to just make you sit back, relax, and see who lives and who dies, without consequence. Could this film have been improved by adding a few other locations and character backstory? Yes, but that didn't seem to be the intention. Walking out of this film, the biggest positive I find myself commending this film on, is its cast and their interaction with one another. I believed every second of their interaction. Every word coming out of their mouths were either meant for comedic effect or to move the story alone, due to the small nature of the story. I loved the casting choices for everyone involved with this film, and the final product serves as a nice little comedic showcase for most of these talented performers. What is disappointing is the fact that this film is not being seen by enough moviegoers, once again proving that not every original premise can be successful. In the end, I found myself quite enjoying the set-up for this film and the shootout itself is pretty fun to watch, but after about 30 minutes, it does seem to feel slightly repetitive. The cast works great together and the violence is definitely effective when it needs to be, but the main flaw is that I honestly couldn't tell if I was supposed to be laughing or mourning throughout certain moments. Free Fire definitely has impressive aspects and I can recommend it to action junkies or films stylized like Reservoir Dogs, but audiences members outside of that demographic may be turned off quite a bit. In the end, this is just another average action flick with a few above average sequences. I enjoyed it for the most part, but it barely warrants a recommendation as a whole.
Free Fire Quotes
There are no approved quotes yet for this movie.