Frances
(1982)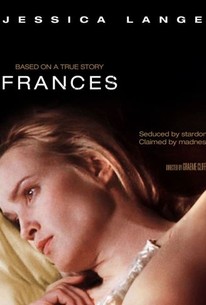 TOMATOMETER
AUDIENCE SCORE
Critic Consensus: This sordid biopic emphasizes the indignities visited upon Frances Farmer to the detriment of fleshing her out as a person, but Jessica Lange's towering performance invests the tragic figure with a humanity that the script lacks.
Movie Info
As played by Jessica Lange, Frances Farmer is a rebel from the word go, winning a high school essay award by writing a piece in defense of Communism. Determining to become an actress, Frances is equally determined not to play the Hollywood game: she refuses to acquiesce to idiotic publicity stunts, and insists upon appearing on screen sans makeup. Her defiance attracts the attention of Broadway playwright Clifford Odets, who convinces Frances that her future rests with the Group Theatre. But once she leaves Hollywood for New York, Frances learns to her chagrin that the Group intends to exploit her movie fame in order to draw in customers. Her desperate attempts to restart her movie career, combined with her increasing dependence on alcohol and the pressures brought to bear by her monster mother (Kim Stanley), result in a complete mental breakdown. Even while institutionalized, Frances is abused by the powers-that-be; she is forced to undergo an injurious brain operation, is treated like a mad animal, and periodically raped by the inmates. Frances is released in the custody of her mother, who persists in browbeating her tortured daughter until Frances discovers the legal means to break away. The real-life Frances spent her last years as host of a local Indianapolis TV program, dying in 1970 at age 57; the film comes to a climax when Frances is feted on the smarmy network program This is Your Life. Other actual personages depicted herein include Clifford Odets (played by Jeffrey DeMunn), Harold Clurman (Jordan Charney) and Ralph Edwards (Donald Craig). Frances' first husband Leif Erickson is fictionalized as "Jeffrey York", and played by Lange's real-life inamorata Sam Shepard. And if you listen closely, you'll hear the voice of Kevin Costner, whose minor role was whittled down to one line when he, like Frances Farmer, had the temerity to argue with the director. The unhappy life of actress Frances Farmer was also covered in Farmer's autobiography, Will There Ever Be a Morning? While the film rights for that book were sold to a TV-movie concern, the producers of the theatrical feature Frances were able to ship their production out to the public first.
News & Interviews for Frances
Critic Reviews for Frances
Audience Reviews for Frances
½
A beautiful actress with a rebellious streak is plagued by perceived mental illness. Jessica Lange, who received a well-deserved Oscar nomination for this role, delivers a gut-wrenching performance in the title role. Her free-spirited portrayal of healthy Frances is tempered by the film's plot, which puts her through the barbarity that we once called medicine in mental health. Sam Shepard is also quite strong as one of Frances's few supporting friends. It may be that the film can't fashion a believable narrative out of the facts, but the idea that Frances would go back to her mother after many of the events the film depicts defies all we know about the character, and her meager excuse that "She's still my mother" in the words of Rocky the Flying Squirrel "Just doesn't wash." Overall, regardless of its plot-related flaws, you should see this film if only for Lange who plumbs emotional depths to produce a tragically wounded character.
Jim Hunter
Super Reviewer
½
Wonderful biopic of the late 1930s Hollywood star Frances Farmer that tells a little known yet horrific, story but is over-Hollywoodised. Jessica Lange makes a miraculous job in playing Frances with paranoia in her rolling eyes and makes her look-like a madwoman indeed. And I think Kim Stanley who played France's mother, Lillian, is perfectly. The movie shows how someone can be completely destroyed by misunderstandings, enlarged by a ridiculous amount of media attention. This is truly a very discomforting look at how the human spirit can be totally crushed by tragic, though changeable, circumstances.
Dean McKenna
Super Reviewer
½
The film starts as a standard biopic, charting the success of actress Frances Farmer in all her mundane glory. There are scenes of her atheism, lack of fear towards becoming a social outcast when she journeys to Communist Russia, and a very quick rise to prominence at a major studio. These are the trivial aspects to the rebellious Farmer, not wanting to be labeled a Hollywood starlet, but instead a Broadway actress, even starring in a play while staying out of the press' spotlight. It's when she becomes blacklisted by her former Hollywood studio and forced to leave the stage for low budget B-movies that Farmer cracks, leading to arrests on the charge of assault and battery, trying to force the men keeping her from doing what she wants to look at her as outspoken. Still, Farmer's antics become outrageous and erratic, screaming at police officers, psychiatrists, and her own mother. Her exploits are spread across the papers, and her only recourse seems to be more screaming and physical violence towards everyone around her. In these instances there is an element of over the top Hollywood spin on the film, to create more drama. The thing that makes this film amazing, is Farmer's relationship with her mother, who continually admits her to filthy mental hospitals, from which her daughter runs away with her longtime boyfriend, Harry. In the final part of the film, we are finally shown an act that diminishes everything Farmer strode for: independence, her own voice, her own life. It's taken away, and replaced by mild temperament and neutral stance. It's quite a powerful scene, and anyone who watches will be terrified by society and their lengths to keep outspokenness in the Dark Ages. Dramatic and wild, Frances is hard to swallow, but captivating to watch.
Spencer S.
Super Reviewer
Frances Quotes
There are no approved quotes yet for this movie.