Foxy Brown
(1974)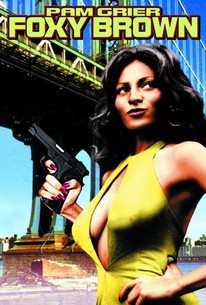 Movie Info
Blaxploitation icon Pam Grier stars as Foxy Brown, a sexy but streetwise woman whose ne'er-do-well brother Link (Antonio Fargas) is a drug dealer who owes mobsters 20,000 dollars. To get the hoods off his back, Link names Foxy's boyfriend as a government agent trying to wipe out organized crime, and the mob soon has him rubbed out. But Hell hath no fury like Foxy Brown scorned; posing as a hooker to get the inside scoop on the mob, she goes on a crusade to find out who murdered her man, and she exacts revenge with the help of a local activist group. The supporting cast includes cult figure Sid Haig as a bad guy (as usual) and Peter Brown and Kathryn Loder as a seriously kinky couple who rule the local mob. ~ Mark Deming, Rovi
News & Interviews for Foxy Brown
Critic Reviews for Foxy Brown
Audience Reviews for Foxy Brown
One of the seminal Blaxploitation films of the seventies, and one of the highest rated, Foxy Brown is still fresh, interesting, and historically stimulating. This, the second collaboration between director and writer Jack Hill and actress Pam Grier since Coffy, this send up to the first film holds much more acclaim for its racy outfits, sexual innuendo, and constant gritty appeal. Starring Pam Grier in the femme role of Foxy Brown, a woman without any training or position of power, who goes after a large drug and prostitution organization for the murder of her boyfriend, who died at their hands. Usually Blaxploitation paints these criminals as the protagonists, running from the crooked police forces, trying to make themselves a living in the despondent ghettos. Here the cartels are all white men and women, sadistic and cruel, so evil that they intentionally corrupt the black community with racial slurs and punishments befitting the very fabric of our nightmares. Foxy herself goes undercover in the organization that her brother snitches on her to, so she can find the big boss, ruin his business, and kill every jive turkey she can get her flamethrower on. Posing as a prostitute and infiltrating the den of the head Madame, Foxy saves another black woman from the exploitative service, and then goes through her own battles with the drug syndicate, sex slavery ring, and other insidious peoples. It's a very straightforward and lewd film, which includes arson, rape, castration, and a number of human indignities you can only imagine. These acts aren't quite as vivid and in your face as in some of today's films, and are all veiled in Motown songs blaring in the background and dissolves to the next scene before any seedy business can be unearthed. Pam Grier is stealthy, while being sexy, straddling the line between laughably lame with her clumsy king fu moves and succubus level seduction. Even today it's a simple story of revenge and reconciliation, and I highly recommend seeing this for the pleasure of it, as well as becoming acquainted with the genre.
Spencer S.
Super Reviewer
This may seem a high score for a film that has rather a lot of very average acting, gaping plot holes and continuity mistakes a plenty, but, it works. And how! Most 'blaxploitation' has good bits, slow bits and bad bits culminating in a rousing ending. This one goes from the very start and doesn't stop. Moreover, whilst like in others, we see lots of outrageous costumes spread across amazing bodies, here the action is rugged throughout. These people don't just seem mean, they are mean. The scenes of Pam's abduction are painful, shocking (and sexy!) and she plays hurt just as well as she plays kick ass. And does she play kick ass! In a surprising scene in a lesbian bar a challenger tells her to watch out and says something like, 'I'm a black belt in karate.' Pam decks her with a stool and yells back, 'I'm a black belt in bar stools.' Fabulous stuff. In fact this innovative film has great dialogue as well as action and there are scenes that would fit well into a movie dealing with racial issues even today. You wouldn't be permitted to show a lot of the action, however. Not too many leading ladies get raped a couple of times and have to suffer the indignities this young lady does before she can get back on top and then show herself to be just as torturous!
Cassandra Maples
Super Reviewer
Entertaining and thrilling, definitely worth watching, especially for tyhe music and Pam Grier's performance.
Chris Weber
Super Reviewer
Foxy Brown Quotes
There are no approved quotes yet for this movie.