The Fourth Protocol
(1987)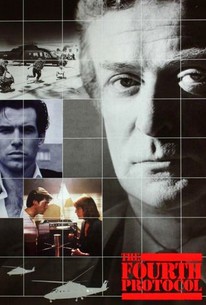 The Fourth Protocol Photos
Movie Info
Scripted by Frederick Forsyth from his own novel, The Fourth Protocol is a fact-based spy thriller. The titular protocol is a secret agreement between America, Britain and Russia to cease smuggling nuclear weapons into their respective countries. This figures into the schemes of several rogue spies, who hope to destroy NATO by embarking on just such a smuggling endeavor. Russian agent Valeri Petrofsky (Pierce Brosnan) is ordered to stage a nuclear accident in England, then arrange the evidence to point to the Americans. British intelligence agent John Preston (Michael Caine) begins wondering why such nuclear-weapon components like lithium are showing up in the unlikeliest places. Ignored by his superiors, who figure that Preston is merely an old-line anti-Commie paranoic, Preston gathers the clues that will enable him to find out who's behind the potential breaking of The Fourth Protocol.
News & Interviews for The Fourth Protocol
Critic Reviews for The Fourth Protocol
Audience Reviews for The Fourth Protocol
A lot more action orientated than the Frederick Forsyth novel that it was based on and Michael Caine's character is, equally, far more of an action hero. Whilst it may have been deemed necessary to beef up the action to make a more exciting film, it loses some on the book's logic, depth and flow.
The Shrewlord
Super Reviewer
ome comments on this film have stated that there are unnecessary killings of agents or witnesses, this is done to show the politics of the film and how there must be no trace back to those who planned the operation, whilst also portraying that petrofsky is a lethal killer, and as Caine says in the film "the best". A great story, and very believable, spies that remain hidden from each other and no excruciating scene where the bad guy reveals his plot to the good guy. Would have been interesting to see what would have happened if the operation had turned out differently, or the ending for that matter! Of course one of the best things about this film is the acting as previously stated by other people. Caine brings his character to life and is very believable in the role of John Preston, the agent who cares, and will "bend" the rules to make sure things get down. Brosnan is similarly good, his character will stop at nothing to complete his mission, he is a stone cold killer and this is portrayed well, he doesn't let anything get in the way of the mission. All in all a very good little film, much better than some of the tripe we get from Hollywood and with one of the finest British casts i've seen in some time.
Cassandra Maples
Super Reviewer
Brilliant cold war thriller with the very young Brosnan acting as a baddy russian spy.....Quality.
Barry Lappin
Super Reviewer
The Fourth Protocol Quotes
There are no approved quotes yet for this movie.