The Formula
(1980)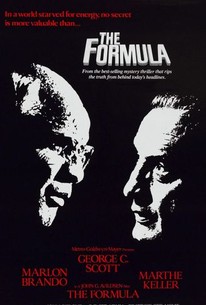 Movie Info
Based on the novel by Steve Shagan, a conspiracy involving a valuable secret formula for synthetic fuel is uncovered when detective Barney Caine (George C. Scott) begins to probe into the events leading up to a friend's murder. Marlon Brando makes an appearance as oil tycoon Adam Steiffel.
Critic Reviews for The Formula
Audience Reviews for The Formula
I didn't think a movie staring two such great actors would be this boring, but wow, it could not keep my interest at all. Not even sure what the plot was supposed to be.
Even though he's being fed his lines through a visible hearing aid, Marlon Brando still pulls off an excellent performance that serves as the highlight of this flop. George C. Scott fights to pull a compelling character out of an essentially hollow protagonist, and he does a pretty good job overall. The film itself is muddled, confusing and extremely tedious. The mystery never really adds up to anything, and by the end I simply didn't care anymore.
½
This started out as a WWII Film and I was just sitting down and getting ready to enjoy what looked to be a somewhat promising war movie, when all of a sudden we were throw forward by a number of years. That was the first surprise. Anyway George C Scott plays a LA Cop who uncovers a plot involving a Nazi Formula for Synthetic Fuel. The second Surprise was that Hollywood was still doing a Nazi theme in 1980, the third and final surprise was that the oil Tycoon was none other then Marlon Brando, I sure didn't recognize him. Scott travels to Berlin to try and track down the ring responsible for his friends death. There's plenty of good acting and action, and if you consider the film date 1980 its a thriller worth 3 1/2 stars.
Bruce Bruce
Super Reviewer
The Formula Quotes
There are no approved quotes yet for this movie.