For a Good Time, Call...
(2012)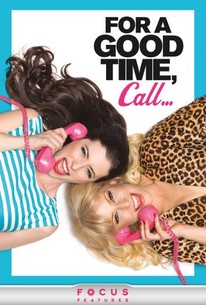 TOMATOMETER
AUDIENCE SCORE
Critic Consensus: Brisk, funny, and sweetly raunchy, For a Good Time, Call... adds to the recent string of R-rated female comedies while serving as an overdue coming out party for the charming Ari Graynor.
For a Good Time, Call... Photos
Movie Info
The reserved Lauren and the irrepressible Katie are polar opposites... and past enemies. But when both come up short on the funds needed to afford their dream New York City apartment a mutual friend re-introduces them and they reluctantly agree to room together. These apartment-mates have nothing in common - until Lauren discovers that Katie is working as a phone-sex operator, and recognizes a good business opportunity. But as their business partnership takes off, their newfound friendship finds unexpected challenges that may leave them both, as they say, hanging on the telephone. -- (C) Focus
News & Interviews for For a Good Time, Call...
Critic Reviews for For a Good Time, Call...
Audience Reviews for For a Good Time, Call...
Here's a movie that was an absolute surprise for me. I expected a light comedy chick flick, and what I got was a hilarious, raunchy, chick flick that guys will enjoy. It's about two girls that don't like each other and are complete opposites. One is uptight and the other is wild who works as a sex phone operator. Well, when the uptight one needs work she helps her set up her own line, 1800-mmm-hmmm. From there they balance their new friendship while running this business and living together. I didn't think this would be funny really and only watched it because I wanted to get something that I thought Emily would enjoy, and she fell asleep while I laughed my butt off. Now the movie towards the end goes full chick flick, but up until the last like 15 minutes its very funny. Has a lot of one liners("Oh your a redhead? Do you have freckles on your dick?"), and a couple great surprise cameos that I didn't expect at all. Is this a great movie that in 5 years I'm still gonna wanna watch? No, but it's definitely worth a watch for a few good laughs. Seen a lot of comedies that are a lot worse that this.
Everett Johnson
Super Reviewer
For a Good Time, Call... was a unique, funny, clever, and shameless good time. I love when gals can get down and raunchy without shame. Besides it being a bit naughty it also had some heart. I love Ari Graynor. I think she is a funny chick. I like Justin Long as well and thought he did great at playing Jesse. Lauren Anne Miller is a new actress for me. I've never seen her in anything before. She was just OK for me. I thought Ari stole the show. I liked all the surprise callers. The movie is a lot of fun. It's silly and touching at times as well. It's a great indie comedy, one I would see again.
♥˩ƳИИ ƜѲѲƉƧ♥
Super Reviewer
½
This sitcom style comedy is too raunchy, over the top, and just plain not interesting enough to hold the attention of all but the least demanding comedy fans. It tries to pull off the Bridemaids style R rated film with an all female central cast, but it isn't as funny or as in touch with the characters as Bridesmaids. The story is incredibly predictable, and the last 20 minutes completely blow it thanks to the eventual fight that reeks of a storytelling mechanic and isn't believable at all after what the characters have been through. Speaking of the characters, they are kind of likable, but too quirky for me. Every single character is given that over the top comedy feel to go for the laughs, stripping it of any dramatic heft it could have had. There's some funny cameos from Seth Roger, Kevin Smith, and Nia Vardalos, though they aren't enough to make up for everything else. The central premise of the phone sex hotline, while initially kind of funny, also gets overblown and tiresome by the end. I simply cannot recommend this film.
Josh Lewis
Super Reviewer
For a Good Time, Call... Quotes
There are no approved quotes yet for this movie.