Food of Love
(2003)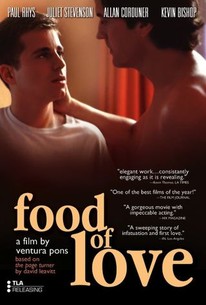 Movie Info
Adapted from David Leavitt's book The Page Turner, Food of Love tells the story of a cross-generational romance between two men. Paul (Kevin Bishop), a sexually repressed teenager, is an aspiring pianist who gets an opportunity to work as a page turner for Richard Kennington (Paul Rhys), a renowned pianist who also happens to be Paul's idol. A flirtation ensues between the two men after a concert one night, but further possibilities are thwarted by the meddling of Paul's neurotic mother Pamela (Juliet Stevenson). When Paul and Richard meet again six months later in Barcelona, they begin where they left off, tumbling headlong into a passionate affair despite the continued intrusion of Pamela, who believes that Richard is flirting with her. The affair is further complicated by the presence of Mansourian (Allan Corduner), Richard's manager and lover, who is suspicious of the relationship between Richard and Paul. Unable to deal with the situation, Richard flees to New York, and when he and his young lover finally meet again, Paul is a Julliard student engaged in an affair with yet another middle-aged man. Food of Love was screened at the 2002 Philadelphia Gay and Lesbian International Film Festival.
Critic Reviews for Food of Love
Audience Reviews for Food of Love
This movie had to be the dullest piece-of-crap I've ever seen. Wait-- that would be Gods and Generals. But this would be high up there on my list of crappy movies. It has nothing to do with it being gay-themed (I loved Brokeback Mountain and Touch of Pink). It's just that the script is a thin shroud for a softcore gay porn flick. It is truly horrendous and there's no character development at all. The lead is a page turner for a pianist or something. That's it. No cinematography to redeem it (good cinematography can actually make a really shitty movie good enough for me to like), and there's no great performances by females (which is usually the case and only saving grace for actresses in gay men movies). Stay away from this atrocious production. Don't even watch it out of morbid curiosity.
Rico Zamora
Super Reviewer
Food of Love Quotes
There are no approved quotes yet for this movie.