Flying Down to Rio
(1933)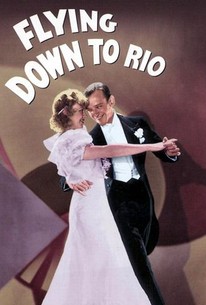 Flying Down to Rio Photos
Movie Info
The top-billed stars in the extravagant RKO musical Flying Down to Rio are Dolores Del Rio and Gene Raymond. Forget all that: this is the movie that first teamed Fred Astaire and Ginger Rogers. We're supposed to care about the romantic triangle between aviator/bandleader Raymond, Brazilian heiress Del Rio and her wealthy fiance Raul Roulien, but the moment Fred and Ginger dance to a minute's worth of "The Carioca", the film is theirs forever. Other musical highlights include Rogers' opening piece "Music Makes Me" and tenor Roulien's lush rendition of "Orchids in the Moonlight". Then there's the title number. The plot has it that Del Rio' uncle has been prohibited from having a floor show at his lavish hotel because of a Rio city ordinance. Astaire and Raymond save the day by staging the climactic "Flying Down to Rio" number thousands of feet in the air, with hundreds of chorus girls shimmying and swaying while strapped to the wings of a fleet of airplanes. It is one of the most outrageously brilliant numbers in movie musical history, and one that never fails to incite a big round of applause from the audience--even audiences of the 1990s. Together with King Kong, Flying Down to Rio saved the fledgling RKO Radio studios from bankruptcy in 1933. The film was a smash everywhere it played, encouraging the studio to concoct future teamings of those two stalwart supporting players Fred Astaire and Ginger Rogers.
Critic Reviews for Flying Down to Rio
Audience Reviews for Flying Down to Rio
½
What a wild hodgepodge of a movie this is. Forget the plot, which is labored as it trundles along trying to get us from one 'wow' moment to the next. The direction, pace, and editing are all quite clumsy, and the film is a bit of a mess. On the other hand, there are many great moments, you get to see Fred Astaire and Ginger Rogers in their first screen pairing, the beautiful Dolores del Rio, and quite a bit of pre-code naughtiness spicing it all up. It makes for quite a bit of entertainment if you just roll with it. Fred Astaire dances and sings well of course, but he also does a great job as the supporting actor, making faces and comments about the leading man's (Gene Raymond) love interests. He's just brilliant. When he and Rogers dance the Carioca after watching the Brazilians doing it, you can feel the magic. It came after a pretty hilarious exchange too. The moves from the Brazilian dancers were steamy, and as their heads touched, the passion in their eyes was evident, leading to this: Fred: "So that's the Carioca." Ginger: "What's this business with the foreheads?" Fred: "Mental Telepathy." Ginger: "I can tell what they're thinking about from here." Earlier Ginger sings with subtle overtones that "music makes me do the things I never should do." How fantastic is it to see not only the first of Fred and Ginger's ten movies together, but the only one made before the dreaded production code. Another clever risqué line in the film was "What have those girls got below the equator that we haven't?", which is slipped in there instead of "What have those girls below the equator got that we haven't?" Dolores del Rio is a bit upstaged here, despite getting the leading credit, but is fantastic as well. The scene where her and Raymond's 'inner thoughts' step outside their bodies as ghosts and advise them to follow their passionate impulses is cute. Later he puts her over his knee and spanks her for an odd reason, adding to the film's oddities. She is elegant and gorgeous in the outfits she wears in the film, including a bathing suit briefly. The film has some nice stock footage of the streets of Rio de Janeiro and surrounding hills, sometimes from the air. The songs performed, including Alice Gentle, Movita Castaneda and Etta Moten singing 'Carioca', are fantastic. The energy and passion in the dance performances are excellent, but many of the visual effects don't live up to their potential, or to better examples. They're nowhere near the quality of Busby Berkeley productions, so it's not clear to me why his name is mentioned as often as it is in reviews of this film. It is wild and a riot though, particularly when numbers are performed on the tops of planes, including many women in see-through tops. Does it make sense that they're up there, far from where anyone can even see them? Or that one falls from one plane, only to miraculously land on another's wing? Or that they're scantily clad to begin with? Of course not. It fits nothing logically and yet somehow seems to fit this over-the-top film. It's really too bad it wasn't in the hands of a better director, but as it is, there is plenty to keep you entertained.
Antonius Block
Super Reviewer
½
I was expecting that Fred & Ginger would be the main characters, but no, they take the side-kick roles, and dance around having fun. This movie was a predictable romance, with some funny scenes here and there. I mostly enjoyed the music, the song and dance numbers are especially extravagant. For example, I can't think of another movie where they thought of getting a hundred dancing girls to perform up on top of airplanes. Overall pretty good, but the story could be better.
½
When I say that this is the least satisfying of the Ginger & Fred movies, I want you to understand two things. First, it was their first together so they were cast in supporting roles. Hence they are not meant to dominate the scene. Second, they were paired, I believe, by happenstance, but you can believe that once the power brokers saw what they had done, they rubbed their hands together with great glee and just knew that they would have to make more movies with this charismatic couple. Thus the string began.
So while this may be the least satisfying of the Ginger and Fred series, that's because it functioned as the discovery of Ginger and Fred. As it is, they are still great together -- and they only got better.
This is definitely, from a historical perspective on them, a Rogers and Astaire must-see. You will only appreciate what came later all the more. And quite frankly, the airplane wing dancing is the bomb, even without them.
Lanning : )
Super Reviewer
Flying Down to Rio Quotes
There are no approved quotes yet for this movie.