Flood
(2007)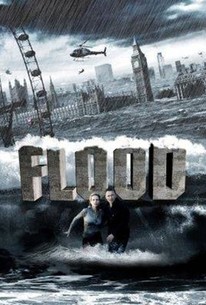 AUDIENCE SCORE
Critic Consensus: No consensus yet.
Movie Info
The citizens of London must grapple with one of the greatest environmental crises in British history, and the possible obliteration of the city itself, in Flood, a natural disaster opus from director Tony Mitchell (Supervolcano). In present day England, a colossal storm hits the North Atlantic Ocean just outside of the UK and moves toward the Scotch mainland, laying waste to the town of Wick. Some predict that the crisis will die off; not so Professor Leonard Morrison (Tom Courtenay of Billy Liar), who worked arduously on the Thames River barrier. Morrison presciently foresees the system moving across the Thames barrier, where it will gain added strength from the year's unusually high tide and inundate London with a wall of water. In desperation, Leonard contacts daughter-in-law Sam (Jessalyn Gilsig), Director of Operations for the barrier, and warns her of the impending destruction; Sam's estranged husband (and Leonard's son) Rob (Robert Carlyle), who is employed as an engineer on the Barrier, and Police Commissioner Patricia Nash (Joanne Whalley) also become involved. As the water hits - just as predicted - these officials declare a city-wide state of emergency and must take extreme measures to keep the pending disaster from spiraling out of control and claiming untold numbers of lives .
Audience Reviews for Flood
This one was to long and just to silly and unrealistic. On the face of it this film looked like it might be really good - it isn't. The cast is pretty good, but most of them seemed embarrassed by the whole thing. The real disaster in this film is not the flood, but the script. It attempts to include every cliché in the book, all done incredibly poorly. The ending is very abrupt, but this is a blessing in disguise. Congragulations if you make it that far. All three main male actors (Carlyle, Courtney and Suchet) would surely agree that this is the low point in their careers. I hope they got paid a lot of cash, because none of their reputations come out in tact. The special effects are quite good, but the same thing was done to much better effect in The Day After Tomorrow. In short, a pointless exercise. Don't waste your time 1 star. 5 -20-13
Bruce Bruce
Super Reviewer
This is a review of the 3 hour miniseries version, rather than the heavily edited 100 minute cut. I had originally only planned to watch Part 1 today, but I was sucked in and quickly put on Part 2. That has to say something. The film certainly grabbed me, but I must admit to being a sucker for disaster movies. It had all the twists and turns you would expect. Cruel public officials, broken marriages, scientists deemed crackpots turning out to be right all along. With three hours to get through, it certainly covers all the angles. After a storm hits Scotland, it soon becomes apparent that the storm will sweep along the east coast of England and eventually flood London. The cast is varied from bad roles and bad performances, bad roles but good performances, and passable roles good performances. Carlyle and Gilsig are the usual divorced couple, forced back together by this natural disaster. Courtenay is Carlyle's estranged father, they are also forced back together due to the flood, as they all happen to work within the parameters of the same field. Most notable are smaller performances from Nigel Planer as the head of the MET office who failed to predict the storm. He feels genuine grief over the tragedy he could have helped avoided and an early performance by Tom Hardy. He is the only real person that feels human throughout. He has some completely unrelated dialogue regarding his mates and a dog. It is perhaps the only time we hear somebody talk about something other than the weather. Seeing a big disaster in England is a welcome change and the effects were actually quite good. The film does have many flaws though. It is incredibly predictable and the bulk of dialogue is exposition or corny family feuds. The editing is annoying, as it constantly freezes and shows us the time, or flashes back to something we saw just minutes a go. The music is very repetitive. I had the main 'dramatic' tune down within 3 minutes (no exaggeration). Towards the end of the second part, all the real threat is over with and they spend a good forty minutes unflooding London. This makes for a film that has reached its climax much earlier. However, if you like seeing disaster films just to see how different parts of the government would react, this is mostly competent.
Luke Baldock
Super Reviewer
Film Crazy
Super Reviewer
Flood Quotes
There are no approved quotes yet for this movie.