Flirting With Disaster
(1996)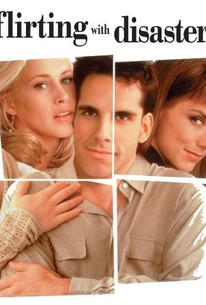 TOMATOMETER
AUDIENCE SCORE
Critic Consensus: Darkly funny, solidly cast, and surprisingly thoughtful, Flirting with Disaster proved David O. Russell's Spanking the Monkey was no fluke.
Flirting With Disaster Photos
Movie Info
In this wickedly funny screwball satire, Mel Coplin, his wife, their four-month-old baby, and an adoption agency psychologist embark on a zany quest to find Mel's biological parents. Wanting to meet his real parents before naming his son, Mel drags his family all over the country before finding them.
News & Interviews for Flirting With Disaster
Critic Reviews for Flirting With Disaster
Audience Reviews for Flirting With Disaster
½
Lonnie Schlichting: I'm sorry that I put windowpane in Mel's quail, and I'm sorry that you ate it.  "Have you flirted yet?" I absolutely loved Flirting with Disaster. It is almost a picture perfect comedy. I'll admit that I didn't think it was going to be as funny as it was, but once I turned it on; it was nonstop hilarious. I'm not the biggest fan of anyone in this cast, but they were all marvelous here. I like Ben Stiller to a degree, but he isn't what I think of when I think of extremely funny guys. Arquette and Leoni are also not two of my favorite actresses, but their presence in this one was great. Also, Josh Brolin is pretty funny as well. There's a good supporting cast including the likes of Mary Tyler Moore and Alan Alda.  So, Flirting with Disaster is about Mel, a married man with a baby that hasn't been named yet. He's the product of adoption and he wants to know where his "roots" are, much to the chagrin of his adoptive parents. When a case worker said she has located his mother in San Diego, the couple, their baby and the case worker take off for San Diego. Well, the case worker was wrong. It isn't his mother. Then they take off to Michigan on another lead, and finally end up in New Mexico. Along the way they pick up a bi-sexual federal agent who went to school with Mel's wife and his also federal agent man lover. They deal with a B&B, a truck accident, and an accidental LSD trip; and it is all hilarious.  I haven't seen too many movies from David O. Russell. I always mean to watch some of his films, but I haven't really got around to it. Both the films I've seen from him, I've loved. The Fighter and now, Flirting with Disaster, while completely different, are both extremely well written and directed by Russell. I love the kind of screwball, quirky way this movie moves from one comedic scene to another. I would never call it a screwball comedy, but it definitely has screwball elements. I would also never call it a purely quirky film, but there are moments of quirk.  Flirting with Disaster was a fun movie and actually quite a surprise. I really did fall in love with it quickly. The dialogue is great and the chemistry between all the actors is great. Russell really got everything out of every performance just as he did recently with The Fighter. This is a great little hybrid between family drama, road movie, and screwball comedy, and Russell mixes all the elements together to make for an extremely pleasing experience.
Melvin White
Super Reviewer
Flirting With Disarter is a creative dark comedy with different themes, but that David O. Russell can make a funny and terrific film. Fresh.
Lucas Martins
Super Reviewer
A less than stellar comedy concerning a young couple (Ben Stiller, Patricia Arquette) who feel it is important to discover Stiller's true biological parents before they can name their newborn child. Dumb premise is saved by a screenplay with ferocious comical bite, mostly thanks to tremendous acting that help make the dialogue and conversations likeable enough. The first half is well-executed given what the premise of the film is, however the second half of the film falls flat on its face repeating the same joke over and over again til' its dead. And, while they are funny, Richard Jenkins and James Brolin as a gay couple who work together as law officers (you read that right) serve no realistic purpose for being in this story whatsoever. It does have some great one-liners ("Hey buddy, you come in here, you lick my wife's armpit...") and the cast from top to bottom is fantastic and impressive, but the story begins to feel quirky for the sake of quirky's sake, and that's when it gets a little annoying.
Dan Schultz
Super Reviewer
Flirting With Disaster Quotes
There are no approved quotes yet for this movie.