Five Easy Pieces
(1970)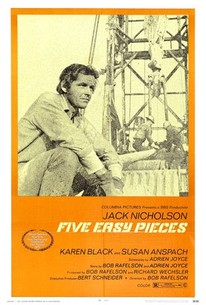 TOMATOMETER
AUDIENCE SCORE
Critic Consensus: An important touchstone of the New Hollywood era, Five Easy Pieces is a haunting portrait of alienation that features one of Jack Nicholson's greatest performances.
Movie Info
A disaffected man seeks a sense of identity in one of the key films of Hollywood's 1970s New Wave. Once a promising pianist from a family of classical musicians, Bobby Eroica Dupea (Jack Nicholson, in his first major starring role) leads a blue-collar life as an oil rigger, living with needy waitress girlfriend Rayette (Karen Black) and bowling with their friends Elton (Billy "Green" Bush) and Stoney (Fannie Flagg). Feeling suffocated by responsibilities, Bobby seeks out his sister, Tita (Lois Smith), and, discovering that his father is gravely ill, he reluctantly heads back to the patrician family compound in Puget Sound with a pregnant Rayette in tow. After a road trip featuring a harangue from hitchhiker Palm (Helena Kallianiotes) about filth, and Bobby's ill-fated attempt to make a menu substitution in a diner, he tucks Rayette away in a motel before heading to the house. There Bobby seduces his uptight brother Carl's cultured fiancée, Catherine (Susan Anspach), but Rayette shows up unexpectedly. As Rayette's crassness collides with the snobbery of the Dupea circle, Bobby loses patience with both sides. After trying to reconcile with his mute father, Bobby departs, unwilling to give in to either destiny. Director Bob Rafelson and screenwriter Adrien Joyce (aka Carole Eastman) used the creative control afforded by the low budget to craft a European-influenced character study, catching a cultural mood of anomie and resentment as it was embodied in Bobby. Neither older generation nor hippie, Bobby fits in nowhere, and his desire for independence conflicts with his emotional emptiness. Nicholson's nuanced performance of simmering frustration resonated with 1970 audiences caught between Nixon's "silent majority" and the troubled counterculture; a substantial hit, Five Easy Pieces was nominated for several Oscars, including Best Picture and Best Actor, and established Nicholson as a star. Offering no "easy" answers to Bobby's existential crisis, Five Easy Pieces is one of the pre-eminent films in the early-'70s cycle of alienated American art movies, as even the fantasy of rebellion is reduced to merely running away. ~ Lucia Bozzola, Rovi
News & Interviews for Five Easy Pieces
Critic Reviews for Five Easy Pieces
Audience Reviews for Five Easy Pieces
A sorrowful tale about the implications of being a runaway from life, Jack Nicholson gives a stellar performance as Robert, a former piano prodigy. Robert is a very interesting character, a man who runs from everything in the world, just so he can be alone and selfish. He runs off from his wealth and his family because he can't deal with his father's disapproval. He runs from his girlfriend, his job, from everything that dissatisfies him only because he wants his life to be purposeful, for something to come out of nothing. He doesn't want to feel trapped by money, and yet he resents anyone who believes he's as lowdown as they are. His selfishness becomes his undoing, and his tendency to run forces him to choose between doing the right thing and the wrong. A stellar supporting cast, amazing premise, and a powerful performance from Nicholson makes this character study an exercise in the contention of human error.
Spencer S.
Super Reviewer
Love the Tammy Wynette/Classical music soundtrack. Especially love the scene where Elton's wife is glued to the small staticy tv screen watching Frank Capra's "You Can't Take It With You".
Graham Jones
Super Reviewer
½
A great road movie about a man who is on a, wait for it, existential journey. This film not only spoke to a generation of filmgoers bewildered by end of the turbulent 60's, but also catapulted Nicholson to the A-List. It is a powerful study on alienation and not for those seeking escapist entertainment. While it is most famous for it's diner scene, I think that scene deserves more than just the simple laugh that most people give it. While Nicholson is on a constant search for his place in this world, on the rare occasion that he does know what he wants, his efforts are obstructed by an established order. Even his attempts to rectify the situation are thwarted by those who reinforce the order. A palpable message for the turn of the decade. Unfortunately, the film does take some unnecessary detours, pun intended, and Karen Black has to be one of the most obnoxious on screen presences I have ever witnessed.
Five Easy Pieces Quotes
There are no approved quotes yet for this movie.