First They Killed My Father
(2017)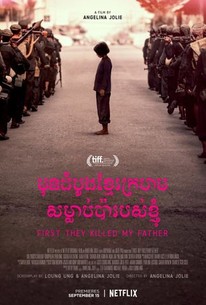 TOMATOMETER
AUDIENCE SCORE
Critic Consensus: First They Killed My Father tackles its subject matter with grace, skill, and empathy, offering a ground-level look at historic atrocities that resonates beyond its story's borders.
First They Killed My Father Videos
First They Killed My Father Photos
Movie Info
Angelina Jolie directed this biopic about a human rights activist and her attempts to survive during the oppressive Khmer Rouge era of rule in Cambodia.
News & Interviews for First They Killed My Father
Critic Reviews for First They Killed My Father
Audience Reviews for First They Killed My Father
½
Given the subject matter, this is depressing, as you would expect. But it's also empathetic and shows the horrors that the Khmer Rouge inflicted. This also shows that Angelina Jolie is definitely more talented behind the camera than in front of it.
Ian Walker
Super Reviewer
½
While I haven't seen what many call Angelina Jolie's vanity project, By the Sea, I have slightly fond memories of watching her direction in both Unbroken and In the Land of Blood and Honey. I never really thought Jolie was suited for the director's chair, simply due to the fact that it had seemed very static in the past. To my surprise, Angelina Jolie stepped right back up to the plate with the new release in First They Killed My Father. From festivals and critics throughout the internet, I've heard some pretty positive word of mouth spreading about this film, and deservedly so. This is easily the best premise that Jolie has ever been at the helm of and it's actually one of the better films I've had the pleasure of seeing in all of 2017. It's a very slow burn, but this Netflix original is now streaming and here is why you should check it out. Forced to relocate with her family, young Loung Ung must face the hardships under the rule of Khmer Rouge. At a very young age, having to face life-threatening experiences and choices, Loung goes through many obstacles throughout the course of one day that nobody should ever have to experience in their entire life. The very existence of this film makes it hard to watch. Being a true story and having some very dedicated children in their respective roles made this a very hard watch in my opinion (in a good way). The way this film is structured definitely makes for a very satisfying conclusion. From its sweeping overhead shots, to the beautiful score surrounding each and every emotional sequence, Jolie is very quickly showing signs of maturity in terms of direction. Getting believable performances out of these children and making you truly believe you're watching a documentary instead of a retelling, this is truly an experience I won't be forgetting anytime soon. Not only is this a terrific story of survival, but it's also technically well done in almost every regard. Now, hardly any film is ever perfect, so I do have something to complain about, which would be its pacing. Although the subject matter is improved by a drawn out telling of this true story, it can definitely be a detriment to the picture as a whole. There were many times when I found the film to be dragging a little, making me think the movie would've benefitted from a slightly quicker pace or a few edits to trim it down by about 20 minutes. This is a very powerful story and I feel it's done wonderfully, but the length and slow pace of everything will make many audiences grow weary of it. Aside from that small gripe, I truly couldn't find much to complain about in terms of overall execution. In the end, First They Killed My Father is an emotionally charged epic on a very small scale, but made to feel grand. This is a movie that I feel is worth your immediate attention, solely due to the material alone, but I can't see anyone wanting to rewatch it over and over again. Overall, this is easily one of the best films I've seen this year, but it's slow pace is definitely off-putting in terms of wanting to revisit it. This is a very easy movie to recommend to pretty much everyone, as long they they don't mind reading subtitles. Now streaming on Netflix, First They Killed My Father ranks among my recommendations for the year.
First They Killed My Father Quotes
There are no approved quotes yet for this movie.