The First Deadly Sin
(1980)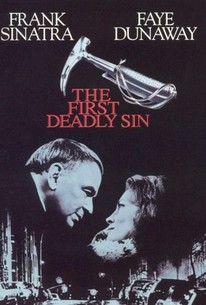 The First Deadly Sin Photos
Movie Info
The First Deadly Sin was Frank Sinatra's final starring movie vehicle. Based on a novel by Lawrence Sanders, it casts Sinatra as Edward Delaney, a big-city detective on the verge of retirement. Beset with profound personal problems--including a gravely ill wife (Faye Dunaway)--Delaney nonetheless tackles the case of an axe murderer who seemingly strikes at random. Be on the lookout for an unbilled Bruce Willis.
Critic Reviews for The First Deadly Sin
Audience Reviews for The First Deadly Sin
3 stars for the storyline between Faye Dunaway's & Frank Sinatra's husband & wife characters.You could feel the love & tell he really cared about her & she about him.The storyline about the axe murderer & Sinatra's cop character chasing after him felt average & almost boring.At times I felt like skipping over them just to see the husband/wife scenes to see where it would lead.The ending wasn't what I was hoping for but I kinda figured out that it was gonna happen :(
Brody Manson
Super Reviewer
The First Deadly Sin Quotes
There are no approved quotes yet for this movie.