Firestarter
(1984)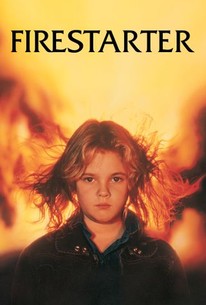 Movie Info
Firestarter is based on a bone-chilling novel by Steven King. Drew Barrymore plays Charlie McGee the young daughter of Andrew (David Keith) and Vicky (Heather Locklear) McGee, who years earlier had been guinea pigs for a top secret experiment. As a result, Charlie has acquired the unenviable ability to start fires simply by thinking about fires. Charlie is pursued over hill and dale by The Shop, a secret government organization bent upon using her skills for nefarious purposes. The special effects are undeniably startling, even when the script and dialogue are straight out of the funny papers (it's hard to keep a straight face during the New York Times final shot!) The high-priced cast--including George C. Scott, Art Carney, Louise Fletcher--seems to be having a grand ole time. ~ Hal Erickson, Rovi
News & Interviews for Firestarter
Critic Reviews for Firestarter
Audience Reviews for Firestarter
Stephen King's story gets a once over but very little more as this adaptation is all about the fireworks. But once it's time for that ... hooboy, do things heat up plenty fast. George C. Scott is a smoothly contemptible villain as well.
Kevin M. Williams
Super Reviewer
½
Despite the nice special effects and musical score, this is more a mere excuse for pyrotechnics instead of a story made to offer us anything close to real drama or character development, and it doesn't even understand the character's power enough to make it consistent.
Carlos Magalhães
Super Reviewer
½
The problem with Firestarter is that it is a horror film that relies way too much on elaborate special effects. The book written by Stephen King was good, entertaining, scary and effective at delivering thrills. This is a film that cheaply relies on the effects to try and create the same atmosphere that the book had, but the payoff is horrible. This is one of the worst Stephen King adaptations that I have seen. King himself, voted this film as one of the worst of his book to screen adaptations. This film was bad, and considering the cast, you'd expect something good, right? However this is a poorly constructed film that relies little on story and more on effects. I think the film would have been much better if the filmmakers would have developed the story a bit more and focused less on visuals. This is a sloppy attempt at bringing Stephen King's book to the screen. Firestarter could have been a good film, unfortunately the film fails and instead of elaborating on the story; it just becomes a visual feast for the eyes with no substance. If you're looking for a good adaptation of a Stephen King novel, you won't find it here. If you're a fan of the book, you'll be disappointed in this film. This is a film that only visually looks good, but doesn't offer anything else. If you're looking for good horror elements, look elsewhere. You won't find it here. The script and directing are horrible, and it's a shame that they couldn't bring a great book to the screen in a more memorable manner. This film is bad, and is quite forgettable.
Firestarter Quotes
There are no approved quotes yet for this movie.