Fired!
(2006)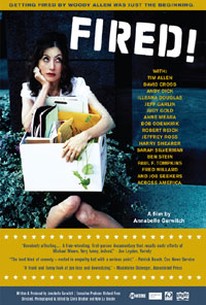 Movie Info
Devastated after being fired by director Woody Allen, actress Annabelle Gurwitch sets out on a soul-searching journey to discover whether getting the axe was the best or worst thing ever to happen in her professional career. Anyone who has been in the workforce for an extended amount of time has likely been there -- one minute you've got a good-paying job that you love, and the next minute you're standing in the unemployment line. When Annabelle Gurwitch got fired by the legendary director of such classics as Annie Hall and The Purple Rose of Cairo, she thought her career was over. Upon turning to her many showbiz pals for advice, however, Gurwitch quickly discovered that she was not alone. In this documentary, Gurwitch enlists the aid of filmmakers Chris Bradley and Kyle La Brache in traveling the country to interview such celebrities as Tim Allen, David Cross, Sarah Silverman, and Jeff Garlin to find out exactly how they dealt with the heavy hand of rejection. Additional interviews with GM workers in Lansing, MI, who were handed their pink slips offer some tales that are tragically comedic and others that seems to reinforce the old adage about one door closing and another door opening, while a visit to job fairs and "outplacement services" show just what the jobless endure on a day-to-day basis. Conversations with the downsizers as well as the downsized offer viewers a chance to explore the topic from both sides as host Gurwitch reminds viewers that sometimes the greatest success stories are born of failure.
News & Interviews for Fired!
Critic Reviews for Fired!
Audience Reviews for Fired!
Getting Fired By Woody Allen Was Just The Beginning
A humorous look at a not very humorous condition: being fired. This viewer can relate to the subject matter, as he has been fired from numerous jobs, and he has dealt with many of the issues touched on here. The actress, Annabelle Gurwitch, after being fired from a play by Woody Allen, sets out on a quest to interview people from all walks of life to try to find how people cope with losing their livelihood. A lot of the material is tongue-in-cheek, but the underlying message is quite apporpriate in today's economy. The way to get over the trauma of being let go, canned, down-sized, right-sized (my personal favorite), or just plain fired, is to see it as an opportunity to re-invent yourself, capitalizing on your strengths and go out and find another job. This viewer found it quite entertaining, and while it may not be a recipe for recovery, it certainly doesn't hurt to find something to laugh about in the midst of what can undermine one's self-worth. A great deal of humor, but some real poignancy as well, especially the footage about the GM workers in Lansing, MI.
Mark Abell
Super Reviewer
½
Sways between anecdotes and insight, general repetition and genuine charm.
William Goss
Super Reviewer
Fired! Quotes
There are no approved quotes yet for this movie.