Fingersmith
(2005)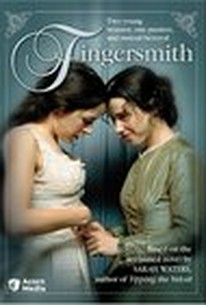 AUDIENCE SCORE
Critic Consensus: No consensus yet.
Movie Info
Two women from different worlds are brought together by strange circumstances and forbidden desires in this period-drama. Sue Trinder (Sally Hawkins) was left on her own as a young child when her parents died, and she was forced to fend for herself, living on the street in the company of thieves and confidence men. Sue is given a chance to reform when she's taken in by Mrs. Sucksby (Imelda Staunton), who wants to keep her off the streets, but Sucksby's friend Richard Rivers (Rupert Evans) is familiar with Sue's old circle and lures her into an elaborate criminal scheme. Sue is to get a job as a maid to Maud Lilly (Elaine Cassidy), a young woman who lives with her uncle (Charles Dance) and will claim a large family inheritance when she marries. Sue's role is to act as confidante to Maud, so when Richard attempts to court her, Sue will help convince the young heiress that marrying Richard is the right thing to do. Richard's scheme is to marry Maud, have her sanity called into question, and then take possession of her fortune after she's committed to an asylum, but as Sue becomes close friends with Maud, she begins to wonder if she has the nerve to go through with the plan, especially when her feelings for Maud begin to extend beyond just friendship. As Sue's choice becomes nearly unbearable, fate steps in and she discovers all is not as she'd been led to believe. Fingersmith was produced for the BBC, where it first aired in the spring of 2005. ~ Mark Deming, Rovi
Critic Reviews for Fingersmith
Audience Reviews for Fingersmith
You just can't beat a good BBC production, this one included. Full of twists, and turns, and unexpected surprises. Just when you think you've got a handle on what's going on, a new development arises to throw you in a new direction. Very well done. Top notch acting. Adapted from a really good novel, so I hear.
Cynthia S.
Super Reviewer
½
This mini-series has more twists and turns that you'd ever imagine by the gloomy look of it at first. I also must say I am a sucker for happy endings. You'd never think it would get there, as well, but it does! It's a must see for gay women audience, no doubt. Sarah Waters fans, there you go. Can't really tell if it's better than "Affinity" or "Tipping the Velvet".
Anastasia Bartzoulianou
Super Reviewer
Somewhat similar to Tipping the Velvet but with much less humor and whimsey. This made for television 'mini-series' has such a gloomy aura about it that it's difficult to see any of the characters in a favorable light. Beyond a few bright moments, Fingersmith seems better suited to PBS or BBC than DVD (IMO).
Randy Tippy
Super Reviewer
Fingersmith Quotes
There are no approved quotes yet for this movie.