Final Fantasy VII: Advent Children
(2006)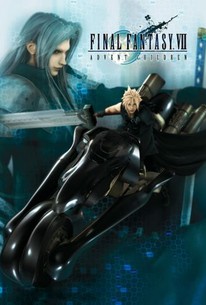 Final Fantasy VII: Advent Children Videos
Final Fantasy VII: Advent Children Photos
Movie Info
A strange disease is decimating the land and it's up to the Hero cloud to emerge from solitude and defeat a new breed of enemy in the computer animated feature that picks up where *Final Fantasy VII left off. It has been two years since the events of *Final Fantasy VII, and though the ruins of Midger still stand to show the sacrifices made for peace, a new threat to mankind has arrived. With the citizens of the countryside falling deathly ill and old enemies rising from the ashes to seek revenge, Cloud must leap back into action and help his fellow men lest his solitude leave all of mankind vulnerable to another devastating attack.
Critic Reviews for Final Fantasy VII: Advent Children
Audience Reviews for Final Fantasy VII: Advent Children
I haven't played "Final Fantasy VII" but this movie was extremely good, i prefer to listen to it in japanese though, because the english dubbing is really bad like a godzilla movie. But they got one of my favorite video game composers to return to do the music for this film, Nobuo Ouematsu. Ouematsu is famous for doing all them usic for "Square Enix" games and to do a video game movie based off of a square enix game it comes as no surprise he would do it, and he did a fantastic job as always, including a great remake of the Sephiroth theme "One Winged Angel." Plus this film has the best cg ive ever seen in an animated film, moost of the time i forgot i was watching a CG Film because the CG looked just like real people.
Michael Edwards
Super Reviewer
When someone thinks about it, the main magic of this film does rely on if you have any knowledge about the video game that this film services as a sequel to. But, does this mean that it is required to have played the game to understand this entire film? No. But having something of a good overview does help. This entire film, in terms of direction, does get slow at times, but the look of the film as a whole does keep your eyes staring at it. This is a film that shows that care and attention to detail for the look and in that sense, it creates a life like and beautiful film. For the voice actors, I understand how hard it was to put voices on these characters, and whom they got for the original Japanese print and the English dub do a fantastic job. What shocks me the most is how they were able to put in so much emotion into the voices. That takes acting to do, and they got the best. In terms of script, the only down fall is that they do not give you enough detail and background on a lot of situations and some plot elements are left wide open. Finally, for the score, just like the games, the score is beyond breath taking, adding to the already familiar sound a hard rock twist that is like a breath of fresh air to these already wonderful masterpieces. Overall, this is a film for anyone that is a fan of the original game, and it has a good chance at getting new followers.
Zach Brehany
Super Reviewer
½
Final Fantasy is a weird concept to make into a film, but taking that fact away from the film makes it that much better. You just forget about anything that you can pick out to laugh at in this film and just have a blast watching this epic CGI animated action fest!
Final Fantasy VII: Advent Children Quotes
There are no approved quotes yet for this movie.