Final Fantasy: The Spirits Within
(2001)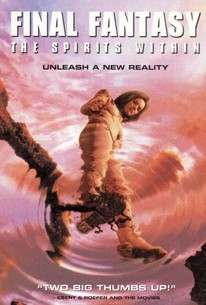 Final Fantasy: The Spirits Within Videos
Final Fantasy: The Spirits Within Photos
Movie Info
The first feature-length motion picture to use computer-generated imagery to create not only effects, props, and environments but also the human cast members themselves, this lavish science-fiction adventure follows closely on the heels of another video game-based film, Tomb Raider (2001). Ming-Na provides the voice of Dr. Aki Ross, a female scientist in the year 2065, a time when Earth has been overrun by extraterrestrial phantoms borne of a crashed meteor. Humans have been pushed back to cities protected by barriers that keep the marauding space monsters away, but time is running out. Fatally infected by one of the ghostly beasts, Ross seeks information about their purpose and physiology, assisted by her mentor Dr. Sid (voice of Donald Sutherland) and the Deep Eyes military squad of courageous Captain Gray Edwards (voice of Alec Baldwin). Tension develops between Aki's quest to stop the alien onslaught through study and the more extreme solution favored by the vengeful, saber-rattling General Hein (voice of James Woods), who would destroy both the aliens and the Earth itself. Aki ultimately comes to realize that the key to unlocking the mystery of the invaders lies within her own dreams.
Critic Reviews for Final Fantasy: The Spirits Within
Audience Reviews for Final Fantasy: The Spirits Within
½
Holy uncanny valley Batman!
Ken Stachnik
Super Reviewer
The first final fantasy film ever made and it seems as though they brought the videogame, which I am not a fan of, to life. The live action movie is much more enjoyable and fun to watch, however they need to make more, really describing the outline of final fantasy, because it just places you in the middle of a random story out of the videogame!
This sci-fi adventure, based on a popular computer game, was highly touted as the first film completely computer-generated in a photo-realistic style, and much of the animation is truly stunning. However, the story is incoherent, betraying its video-game roots, and the characters are boring; the stunning animation doesn't extend to facial expressions or lip movements.
Dean McKenna
Super Reviewer
Final Fantasy: The Spirits Within Quotes
There are no approved quotes yet for this movie.